Follow the Yellow Brick Road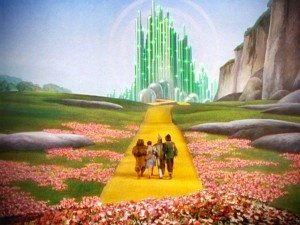 Everybody has days when we feel like a house landed on us. But in the end we all agree with Dorothy, "Oh Auntie Em, there's no place like home!"
During the month of May we're going to talk about how to set up your kitchen – really, your whole house – for weight loss success. We'll look at the pantry, fridge and freezer to make sure we're creating an eating environment that supports our healthy living goals. We'll talk about keeping unhealthy foods at bay so that the only choices to be made inside the home are healthy ones.
There will be some hazards that come up as we travel the Yellow Brick Road, but if we go together we'll get to the gates of the Emerald City!
In the meantime, look below to see what's new on the website this week!
Have a healthy week!
– Marilyn
---
New this week