The Proactive Pantry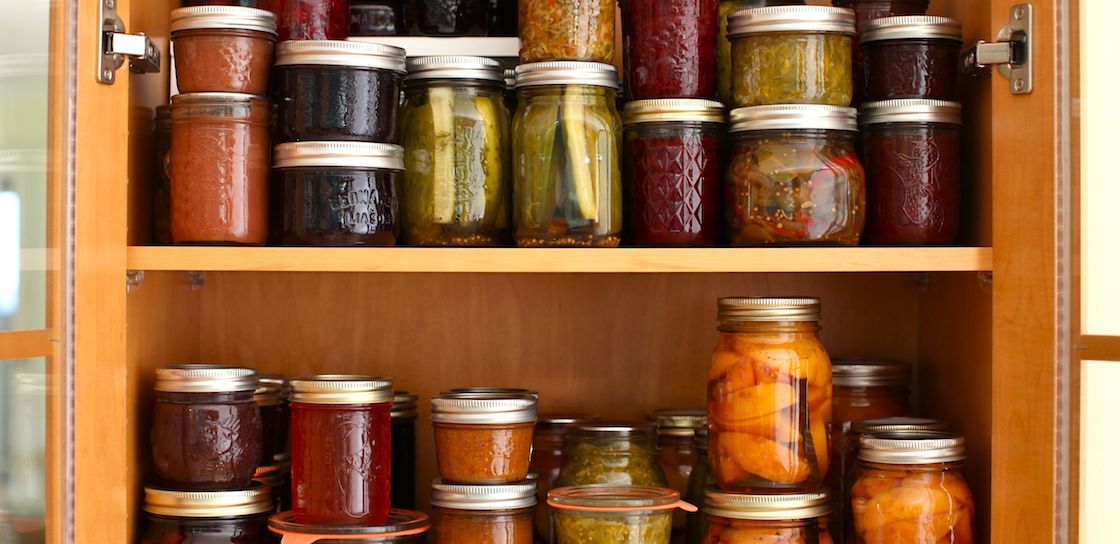 I am probably the last person on the face of the Earth who will tell you to start canning all your food in order to eat healthier. I am, after all, the laziest (healthy) cook in North America.
I will, however, tell you that once you've done your "Pantry Purge" based on the principle of throwing out RED LIGHT FOODS and minimizing your use of YELLOW LIGHT FOODS, you've got plenty of room in there for loads of GREEN LIGHT FOODS.
As the name implies, GREEN LIGHT FOODS are those foods that are inherently good for you, and can be eaten (given modest portion sizes) without concern that you're jeopardizing your family's health or your weight loss goals.
Get your grocery list ready, cause here we go!
Grains: amaranth, bulgur, whole grain cornmeal, farro, old-fashioned rolled oats, quinoa, steel-cut oats, wild rice, wheat bran, whole wheat flour, whole rye flour.
Beans: (low sodium) canned and dried beans of all kinds including lentils and split peas.
Nuts and seeds: all kinds as long as they're not "dry-roasted" or candied. Popcorn seeds too, because even though I didn't mention it specifically in the "Pantry Purge" blog, microwave popcorn is a RED LIGHT FOOD. Nasty stuff. Don't forget pine nuts and sunflower seeds!
Dried fruit: all kinds, so long as they're not candied (as in holiday fruitcake). Craisins now come in a 50% reduced sugar variety!
Canned goods: (low sodium) soups, vegetarian or low-fat chili, vegetarian refried beans, tomatoes of all kinds including marinara sauce and sun-dried tomatoes, (low sodium) vegetables, fruit (packed in juice), unsweetened applesauce, light coconut milk, nonfat evaporated milk.
Oils and vinegars: olive and canola oils, coconut oil (unrefined), all kinds of vinegar, especially balsamic.
Dried herbs and spices: everything you can get your hands on! Also, try pre-made rubs that can fast-track a lean burger to supercharged flavor.
Sign up for my newsletter
Cereals: Cheerios and any other cereal with approximately the same nutritional makeup of Cheerios; that is, low in sugar. These can be a huge food trap because cereal manufacturers have long been adding whatever the micronutrient of the week (think omega-3s and antioxidants) to their products to manipulate us into believing it's healthy. For the most part, cereal is a pretty poor breakfast option. Having said that, it can be a great late night snack if you keep the portion size small.
Processed snacks and treats: there are a (very) few that are worth having around. Larabars are a good on-the-go protein bar that come in a bajillion flavors (though I prefer my homemade vegan cookies to a commercial protein bar), dark chocolate (70% cocoa or higher), unsweetened cocoa powder, unsweetened coconut flakes, and if you don't tell anybody … Fig Newtons. Geez, I love those things!
Just like I eat from a "blueprint," I restock my pantry and cupboards with the same healthy foods week after week. They are the building blocks for the healthy meals and snacks that make up my diet and also provide lots of options for feeding my family.
Remember, you're creating a "safe haven" where the only choices to be made are good ones!
Losing weight is hard, but it gets easier when your kitchen is an extension of your healthy living values. And you're so damn worth it!
Let's go get it!