Vegan Thumbprint Cookies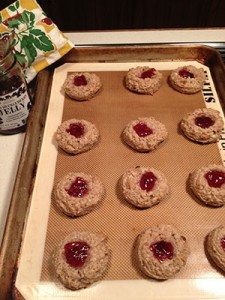 Preheat oven to 350 degrees.
Ingredients:
½ cup almonds
½ cup walnuts
1 cup old-fashioned oats
1 cup whole wheat flour
½ tsp salt
½ cup canola oil
½ cup pure maple syrup
Fruit-only jam or jelly
Baking Instructions:
Measure nuts into bowl of food processor and grind until chopped very fine. Add oats and grind until blended. Add whole wheat flour and salt; pulse to combine. Empty ingredients into large mixing bowl and add oil and maple syrup. Stir until all the dry ingredients are moistened. Use 1½ " scoop to measure out balls of dough and place onto lined cookie sheets. Press your thumb into the center of each ball to create a well and place ½ teaspoon of jam into each. Bake for 20 minutes at 350 degrees. Makes 16 cookies. Approximately 200 calories each.
Recipe adapted from Whole Foods.