Sweet Potato Hashbrowns with Eggs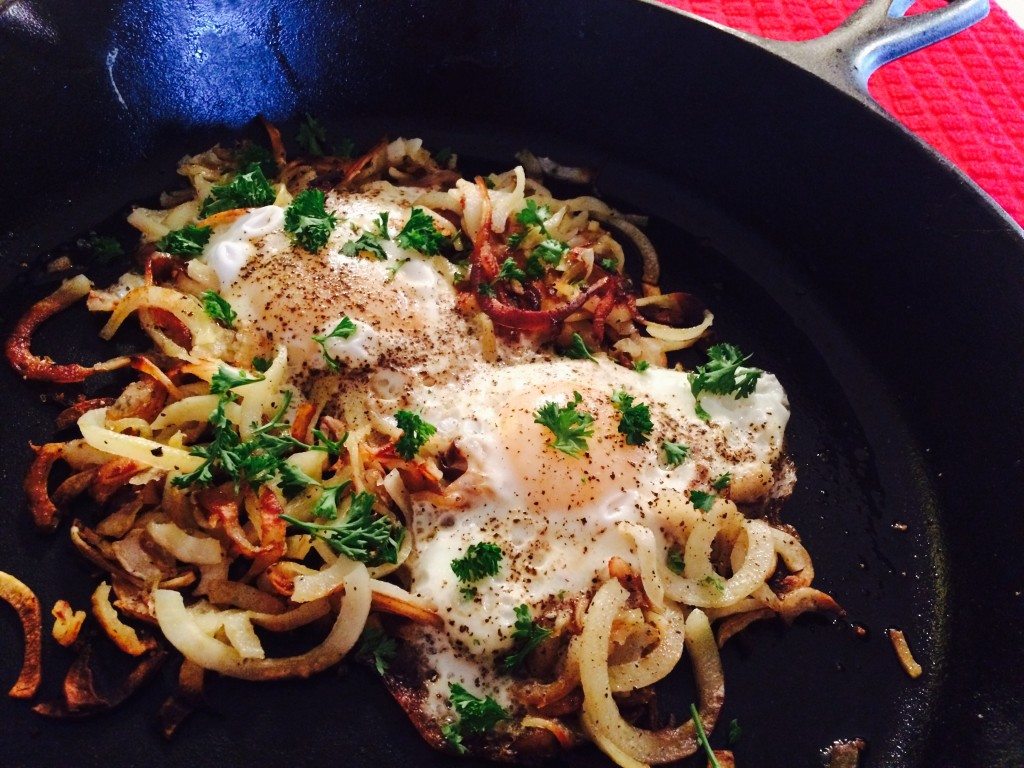 My new vegetable spiralizer is in big demand in my kitchen! I've had success with making zucchini "ribbons" which I put to good use in my "Chicken with Zucchini Ribbons and Avocado Pesto" so I thought I'd start testing other vegetables to see what I could come up with.
Here I used a sweet potato to make a sort of variation on hashbrowns. It was fabulous! Drop a couple of eggs in on top when the browns are crispy and you've got Sunday morning brunch covered! Serves two.
Ingredients:
1 T organic, unrefined coconut oil
1 sweet potato, peeled
dash of salt and pepper
2 eggs
1 T fresh parsley, chopped (for optional garnish)
Directions:
Cut ends off of sweet potato, position into place in spiralizer and cut sweet potato spirals. Set aside.
Melt coconut oil in cast iron skillet over medium high heat. Add sweet potato to hot pan and cook potato, turning to brown, about 4-5 minutes. When potatoes are nearly done, create two "nests" and crack eggs into them, being careful not to break the yolks. Salt and pepper to taste. When eggs are set, add optional parsley garnish. Enjoy!