Spicy Black Bean Soup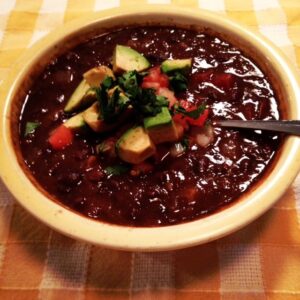 "Hi, my name is Marilyn and I have a Spicy Black Bean Soup problem."
Oh, sorry. That's the way we start our 12-step group meetings. (I'm joking.)
I am addicted to this stuff. But what a way to go, right?! Here's the thing, not only is the soup itself fabulous, but you can top it with all the same stuff you love on tacos (in very small amounts please; these are garnishes after all). It's so delicious and so healthy, there's no reason not to eat it every day.
I'll save you a seat at our next meeting.
Ingredients
1 T olive oil
2 cups pico de gallo
1 T cumin
1 tsp salt
½ tsp pepper
14.5 oz. can of diced fire roasted tomatoes (such as Rotel), not drained
4 oz. can minced jalapenos
4 15oz. cans black beans, rinsed and drained
32 oz. vegetable broth (you can use chicken broth)
Juice of ½ lime
Garnish:
Diced cilantro
Plain, non-fat greek yogurt
Avocado
Shredded sharp cheddar
Pico de gallo
Cooking Instructions
Heat olive oil in stockpot. Add most of the pico de gallo (reserving a small amount for optional garnish), cumin, salt and pepper. Heat thoroughly, about 3-5 minutes. Add 3 cans of the rinsed, drained beans, tomatoes, and jalapenos and heat through. Add vegetable broth and bring to low boil. Reduce heat, cover and simmer, about 10 minutes. Use an immersion blender to mostly puree the soup. Add in remaining can of black beans and the lime juice. Heat through. Serve with cilantro or any/all of the other garnishes.