The girl's still got it!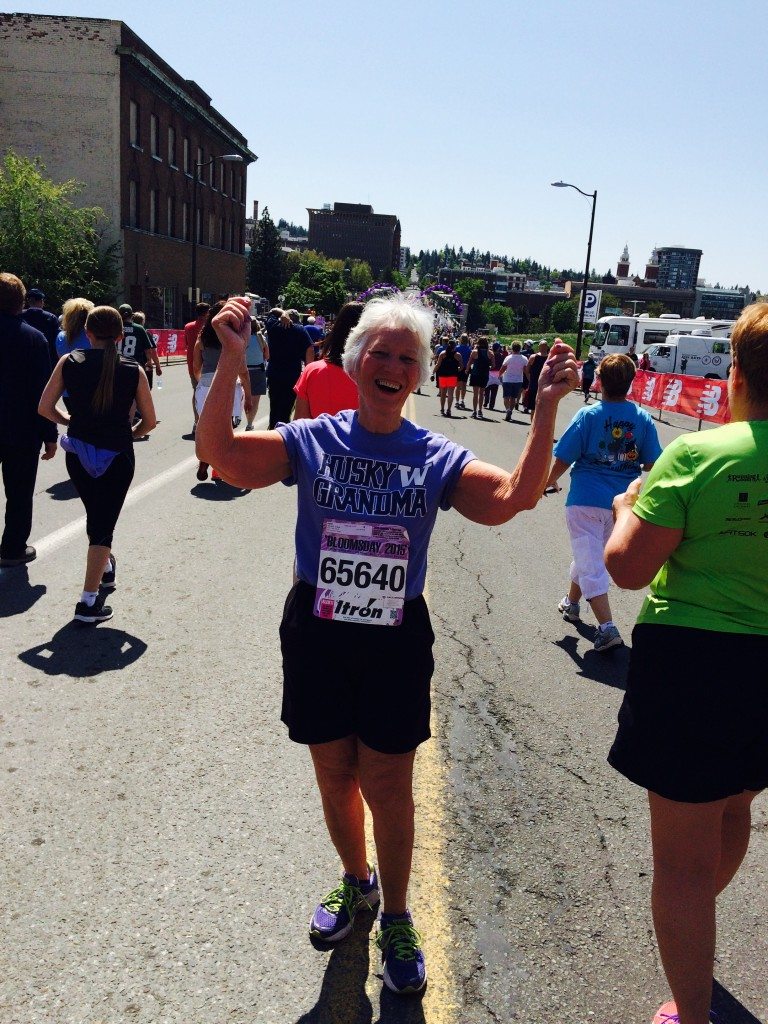 There she is, crossing the finish line to the theme music from "Rocky." Go mom!
I called my mom this morning to find out how she was holding up after our race yesterday.
"How are you feeling?" I asked.
"Well, I won't be doing much today, that's for sure!" she answered with a groan.
"But other than some soreness in my shins, I feel really good!" she added, enthusiastically.
Ever the optimist.
Over the weekend my mom and I made our now-annual trek to our hometown of Spokane, Washington to participate in Bloomsday, the kickoff event for their spring Lilac Festival. Bloomsday is a 12K (approximately 7.5 miles) race run through the streets of town, and with 50,000+ runners it's one of the biggest road races in the country. Mom and I have each done it separately many times over the years, but the last three years we've done it together. And even though her hip gives her no end of troubles (she's having a total hip replacement next month) and she'll be celebrating her 76th birthday this summer, her enthusiasm for this race has never wavered.
Certainly crossing the finish line is an accomplishment at any age, but the race itself is just a part of our girls' weekend adventure together.
It starts painfully early (by my standards) on Saturday morning. Mom arrives at my house at o'dark thirty, very chipper and excited. I, on the other hand, am considerably less chipper until my first cup of coffee has taken hold. Despite my surly countenance, mom's energy cannot be contained. She is giddy as we head out, driving 280 miles across Washington state, making required stops at Starbucks along the way. We pull into Spokane before 11am to find the entire town (or so it seems) pouring into the Convention Center, where the race expo is underway, race packets are distributed and registration is taking place. Interestingly, unlike most races I participate in, registration can be done right up through the day before and is a bargain at only $35. Race organizers have made a conscious decision to keep the price low so that everyone who wants to participate can do so. It's indicative of the whole vibe of the race: it's inclusive, accessible and so darn much fun! Each year as we take our place in our corral (the staging area where you wait before the starting line) mom and I meet people from all walks of life (though notably the Kenyans are waaaaaaaaaaaay in front of us).
On the day before the race, after we pick our race packets, we hop back in the car and head south about an hour to the tiny town of Tekoa, a small farming community in the lush Palouse region of our state. Both of my parents grew up there and mom likes to go visit her family farm, see her high school, and visit with a bunch of her gal pals who still live in the area. Though I don't know all the people they chatter about, it's so much fun to see my mom and my aunts (who also both come) share their common history. The delight with which they share their stories is tempered only by their dwindling numbers, as they feel the loss of more and more of their friends each year.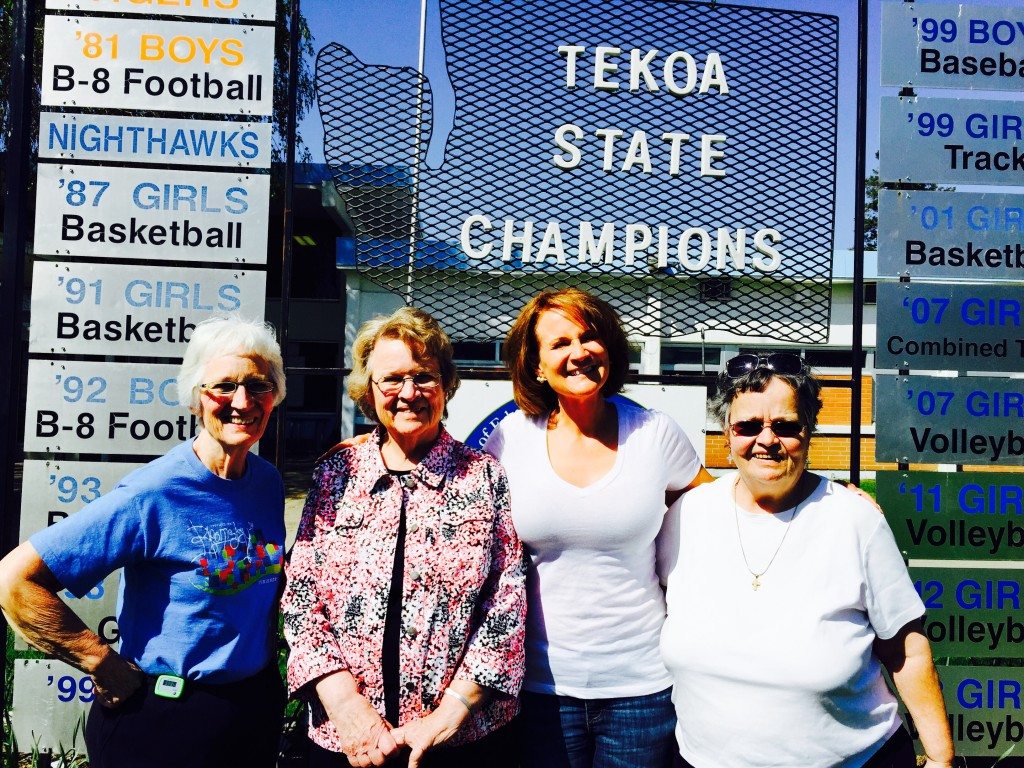 My mom, my aunts and me outside Tekoa High School
After a pot luck and several hours of reminiscing, we head back up to Spokane for dinner with aunts, uncles, cousins, in-laws and anybody else who might be in town. I keep my disdain for large chain restaurants to myself and head to Applebee's with the whole gang. The evening flies by as we catch up on the highlights of everybody's busy lives.
By the time mom and I check into our hotel it's all we can do to lay out our gear for the race the next morning.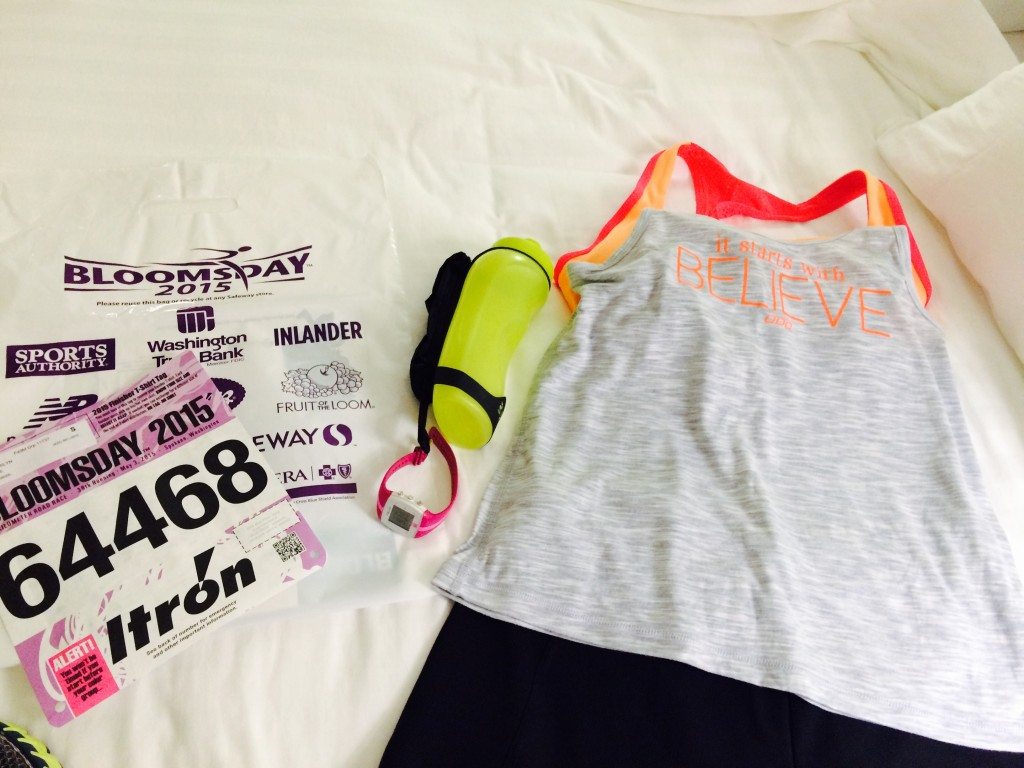 There have been plenty of years in the past when my primary motivation for the race was to get a personal best finishing time, but when I run with mom it's all about going at whatever pace is comfortable for her and taking it all in. As is so typical of my mom, by the end of the race she's greeted everyone who crosses her path with a smile and offered each of them a high-five for encouragement.
You may be aware of my mom's own significant weight loss several years ago; at age 70+ she lost more than 70 pounds. I did a series of interviews with her last year where we talk about how she did it. If you haven't watched them I encourage you to do so now. She is amazing!
Interview with mom, part 1
Interview with mom, part 2
Interview with mom, part 3
Our road trip this weekend ended after we successfully crossed the finished line, packed up our gear and headed back across the state. We were wiped out, but felt so satisfied having set a goal and accomplished it. My mom's perseverance, through her weight loss and now competing in this race every year, leaves me in awe. She is living proof that you're never too old to be your best self.
I only hope that I can spend the next 50 or so years fulfilling that legacy.
Thanks for showing me what to reach for, mom.