Thanksgiving with Rob and Marilyn
Probably just like you, I have a folder full of recipes that are dog-eared and stained from years of use. There is no other meal more steeped in tradition than Thanksgiving. Our family is no different from yours in that we want our tried-and-true favorites from year to year. And even though we're all about eating healthy at our house, we want the real stuff at Thanksgiving.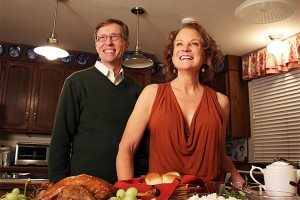 We always host Thanksgiving. We do so because we enjoy welcoming our friends and family into our home, but also because our kids love the sights and smells of this holiday.
When I stuff the turkey it's homemade stuffing and the gravy's made from scratch. Every dish is special and has a history in our family. I bet it does in yours too.
But even though we don't want to sacrifice the tastes and traditions of Thanksgiving, I like to cut back on fat and calories where I can. There are ways to trim down that will make a meaningful difference in the number of calories you consume on this day notorious for overindulging.
I've been getting Cooking Light magazine for more than a decade and some of my best holidays recipes come from its pages. Our all time favorite sweet potato casserole recipe is at the bottom of this blog. I've been making it since 2002 and believe me it sacrifices nothing to achieve reduced fat and calories. Try adding it to your family's repertoire this year and let me know if you think it's a keeper.
Signup to get my newsletter!
Thanksgiving is as much about celebrating the day with our loved ones as it is about stuffing ourselves at the dinner table.
Rob and I will be counting our many blessings on Thanksgiving as we spend the day with our children and our extended families. We hope that your day is spent enjoying your loved ones as you also savor the delectable holiday meal on your plate.
Happy Thanksgiving!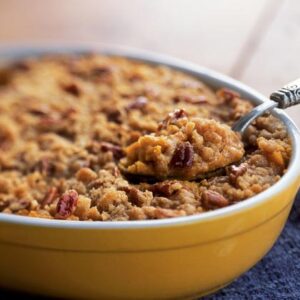 Streuseled Sweet Potato Casserole
Ingredients
14 cups (1-inch) cubed peeled sweet potato (about 5 pounds)
1/2 cup half-and-half
1/2 cup maple syrup
1 teaspoon vanilla extract
3/4 teaspoon salt
1 large egg, lightly beaten
Cooking spray
1/2 cup all-purpose flour
1/2 cup packed brown sugar
1/4 cup chilled butter, cut into small pieces
1/2 cup chopped pecans
Preparation
Preheat oven to 375°.
Place potato in a Dutch oven, and cover with water. Bring to a boil. Reduce heat; simmer 12 minutes or until tender. Drain.
Combine the half-and-half and next 4 ingredients (half-and-half through egg) in a large bowl, stirring with a whisk. Add potato to egg mixture; beat with a mixer at medium speed until smooth. Spoon potato mixture into a 13 x 9-inch baking dish coated with cooking spray.
Combine flour and sugar in a food processor; pulse to combine. Add chilled butter; pulse until mixture resembles coarse meal. Stir in pecans; sprinkle over potato mixture.
Cover and bake at 375° for 15 minutes. Uncover and bake an additional 25 minutes or until the topping is browned and the potatoes are thoroughly heated.
Source: http://www.myrecipes.com/recipe/streuseled-sweet-potato-casserole-10000000385230/