Spinach Salad with Quinoa and Feta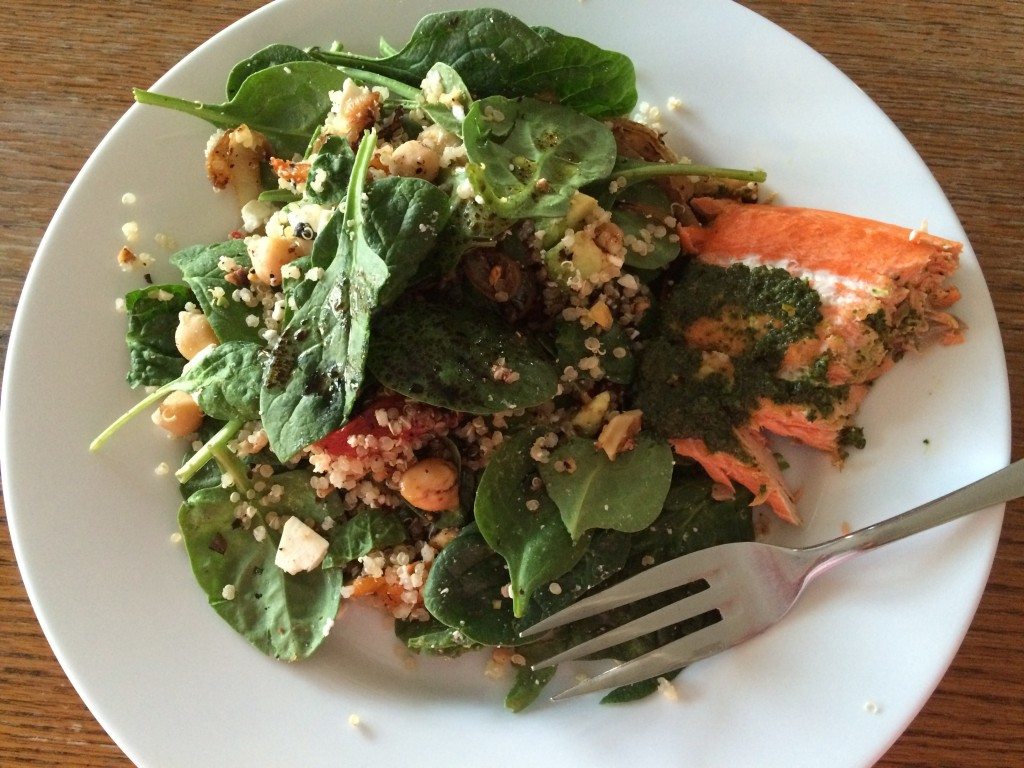 The other day my BFF texted me a picture of her dinner. (Do other people do that with their BFFs too? We do it all the time.) She said she was trying to replicate a salad she'd had in a restaurant not long before, but naturally – being the amazing cook that she is – she was tinkering with it a bit. The flavor combination is amazing the way she revised it, so we all have my BFF Janice to thank for this one! I served it (above photo) with Grilled Salmon with Kale Pesto. Yum! Serves 6-8.
Ingredients: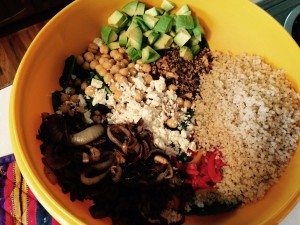 6 cups organic baby spinach leaves, rinsed
2 cups cooked quinoa
1 14oz. can garbanzo beans, drained
1 cup caramelized onions
½ cup bottled roasted red and yellow peppers, drained and julienned
½ cup toasted walnuts, chopped
½ cup reduced fat feta cheese, crumbled
1 avocado, diced
1 cup balsamic vinegar
½ cup extra virgin olive oil
Directions:
Make a balsamic reduction: Bring the balsamic vinegar to a boil in a small saucepan; reduce heat and simmer until liquid is reduced by half and begins to thicken. About 10 minutes. Set aside.
Combine spinach, quinoa, garbanzo beans, onions, peppers, walnuts, feta and avocado in a large bowl.
In small bowl, whisk together the balsamic reduction and olive oil. Drizzle over salad and toss. Enjoy!