Skinny Drop Biscuit Chicken Pot Pie
What could be more comforting than chicken pot pie? Traditional chicken pot pie has a pie crust on both the top and bottom, meaning it's loaded with fat. Here we've not only substituted a lower fat biscuit for the pie crust, but replaced the starchy potatoes with turnips and added mushrooms for an earthy flavor. Cozy up and enjoy!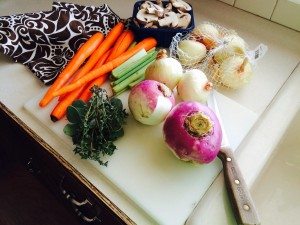 Ingredients:
1 fully cooked, roasted chicken
2 cups carrots, diced
2 cups turnips, diced
1 cup celery, diced
1 cup onion, diced
1 cup cremini mushrooms, sliced (or white button mushrooms)
3 garlic cloves, crushed
1 T fresh thyme, chopped (or 1 tsp dried)
1 T fresh sage, chopped (or 1 tsp dried)
2 tsp coarse salt
1 tsp pepper
2 cups low-sodium chicken broth (to make 2 cups when combined with cooking liquid)
3 T all-purpose flour
olive oil cooking spray
2-1/4 cups biscuit mix (such as Bisquik)
3/4 cup skim milk
Directions:
Preheat oven to 375o.
Remove all the meat from the chicken, discarding bones and skin. Dice chicken meat into small, bite-sized pieces. Set aside.
In dutch oven coated with olive oil-flavored cooking spray, add carrots, turnips, celery, onion, and garlic. Cook over medium heat until vegetables are tender, about 7-8 minutes. Add mushrooms, thyme, sage, salt and pepper and heat through, about 3-4 minutes.
In mason jar or other lidded container, combine chicken broth with flour and shake until smooth. Add broth and flour mixture to dutch oven and stir to coat. Add diced chicken to dutch oven and stir to combine.
Spray 13×9 –inch glass or ceramic cooking dish with cooking spray and spread mixture evenly in dish.
In medium-sized mixing bowl, prepare biscuit recipe according to box directions. Drop biscuit dough by small, rounded spoonfuls on top of chicken and vegetable mixture.