Roasted Chicken with Vegetables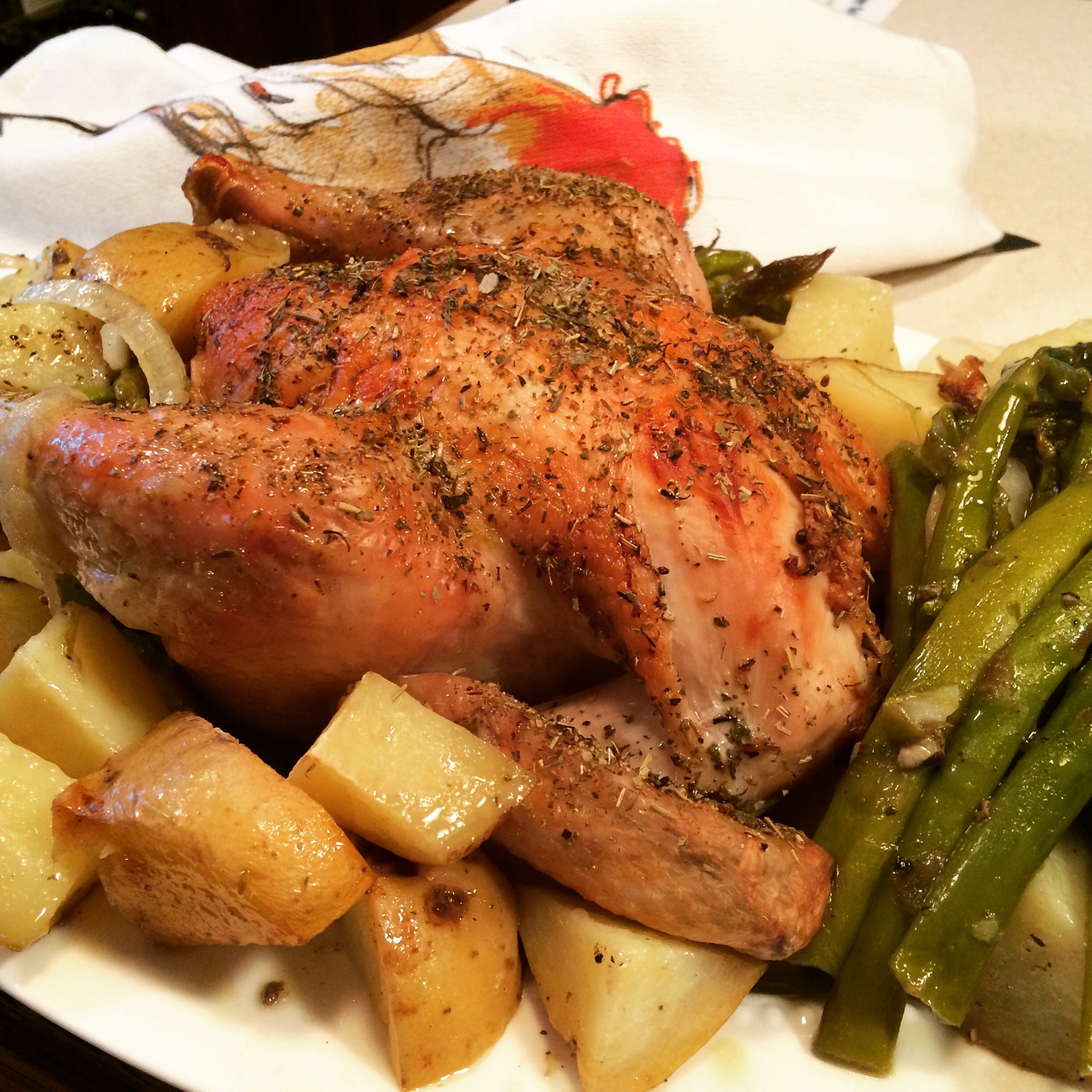 The number of ways you can switch this up to suit your and your family's taste is limited only by your own imagination and your taste buds. I used Yukon Gold potatoes, onion and asparagus because that's what my home-delivery organic produce source dropped on my doorstep this week. Maybe next week I'll have carrots and a butternut squash! That would be just as good. The trick with the veggies is to cut them into equal-size pieces so that they cook through in the same amount of time. Putting the veggies on the bottom serves two purposes: It gets the chicken up out of its own drippings, thus keeping the bottom skin from getting soggy, and it provides plenty of fat for the veggies to cook in, so adding extra fat is unnecessary.
I love a one-pot meal that I can just stick in the oven and take out an hour later, but I also love that this meal provides leftovers for at least one more night. We've got your weeknights covered! Serves 6.
Ingredients:
2 T olive oil
1 lb. fresh asparagus, trimmed
3 Yukon Gold potatoes, diced into 1″ pieces
1 yellow onion, sliced thinly
3-4 lb. roasting chicken (I use organic, free-range)
1 T olive oil
1 T herbes de provence
Directions: 
Preheat oven to 375 degrees.
Add 2 tablespoons olive oil to bottom of large cast iron skillet and swirl to coat. Place onions and potatoes in layers in pan. Place chicken, breast side up, on top of vegetables and rub with 1 tablespoon olive oil and herbes de provence. Roast chicken and vegetables for one hour or until juices run clear. Halfway through the cooking time, add asparagus, arranging around chicken. Allow chicken to rest for 10 minutes, then carve and serve with vegetables. Enjoy!