How pounds (and stuff) creep up on us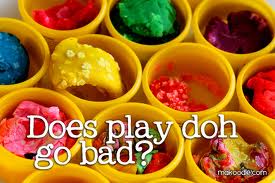 You've probably never given any thought to whether or not Play-Doh has a shelf life. Well, it does. I can't tell you exactly what that shelf life is, but I can tell you it's not 10 years. My youngest child is 14, so it's probably been about that long since I last put the kids' Play-Doh in the hall closet. When I cleaned out that closet the other day with mom I found it had turned into something akin to Play-Cement.
My family and I are moving in a few months. (Click here to see what the house looks like right now.) Not far, just a few miles up the road. But even if you're just moving next door, you still have to move! In our case that means packing up 14 years worth of stuff collected by four kids, two dogs, three cats, a couple of hamsters … and of course, my husband and me.
That, my friends, is a lot of stuff.
This move is forcing me to deal with all of that stuff, and my habit of just shoving things in a closet or drawer "for now" means that the closets, drawers and cupboards are the starting point for my pre-move household purge.
To help me deal with this overwhelming task I enlisted the help of my mother. Mom is an organizational freak. (I mean that in the most loving way, of course.) Mom's been flexing her "downsizing" muscles for quite some time as she lives in a pretty tiny apartment and has to be ruthless about what makes the cut and what doesn't. Her skill set is exactly what I needed to get me started on cleaning out more than a decade's worth of accumulated "treasures."
I thought we'd start with something simple and straightforward: the two closets in the upstairs hallway. One is a "game" closet (Monopoly, Scrabble, etc.), but also has arts & crafts materials and sewing supplies (I am definitely not crafty, but as a mom one is pressed into the service of these types of projects. Hence the supplies.) The second is a linen closet.
As we began to empty those closets and decide one by one what the fate of each item would be – save, donate or throw away – it became undeniably clear: we are a family of packrats. We kept blankets with holes in them, sheet sets in sizes we have no beds for, decks of cards with only 49 cards, and of course, that well-hardened Play-Doh.
In our hurried lives, my family and I found it easier to just shove something in a closet or drawer than to make a conscious decision about its usefulness. Of course, there are items we will save for sentimental reasons (I will never part with the kids' baby blankets or each one's favorite stuffed animal), but when I started sorting, it became clear that very few of the items jammed in our closets were heirloom-material.
It was just easier to shove things in and think about it later.
I suppose our weight can work that way too. I know I had years where the scale just slowly crept up … and up … and up. I added pounds slowly, over a long period of time. I guess I figured I'd deal with it later.
But it's time to make some proactive decisions! I've got mom to help me clean with my pre-move purge. We loaded up the minivan with items to donate and treated ourselves to a healthy lunch afterwards. Got to have incentives along the way, right???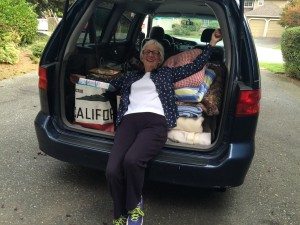 Mom and I have agreed to set aside a couple of hours each Friday for this project. Just like losing weight, it's best to go slow, have a plan, invest time and energy to doing it right, enlist the help of trusted friends (or your mom!), treat yourself along the way, and make it fun!
I've warned my 14-year-old that Nana and I are cleaning out his room next; he quaked with fear. Wonder what he's got under that mattress?