Healthy Eggs Benedict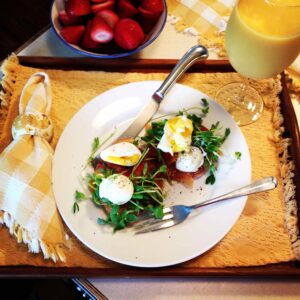 Ingredients:
1 Orowheat Bagel Thin ("Everything" flavor)
2 slices ultra thin swiss cheese
2 oz smoked salmon
4 slices roma tomato
Pea sprouts (or arugula)
2 soft boiled eggs
Directions:
Place eggs in saucepan filled with cool water, just enough to cover eggs completely. Bring to boil over high heat, reduce heat to medium and continue to boil, 4 minutes. Run cold water into pan and set eggs aside.
Toast Bagel Thin until golden brown, then place cheese slices on top of bagel halves. Continue layering with smoked salmon, tomatoes, pea sprouts. Finally, crack eggs in half and scoop 1 soft boiled egg out onto each bagel half. Sprinkle with course salt and cracked pepper.
One serving, about 450 calories.
In-Person Personal Training
Work with me one-on-one to improve lean muscle mass, cardiovascular endurance, and functional movement through weightlifting, body weight strengthening, and resistance training.
Learn More
Healthy Life Coaching Online
Whether your goal is to lose 100+ pounds (like I did!) or to break through long-standing barriers, we will empower you to reach your goals through evidence-based practices that will transform your health, happiness and longevity.
Learn More
What Clients Are Saying
Ready for a change?
Schedule your complimentary first call with me today!