Greek Edamame Salad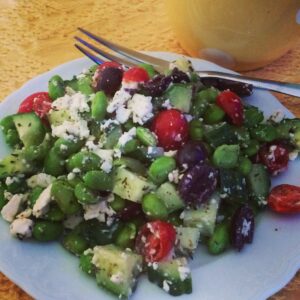 This salad is great on its own for lunch, as a side to chicken or fish for dinner, or over lettuce anytime! Edamame are high in protein and fiber, but low in fat. They're also a great way to add vegetable protein to your diet.
Ingredients:
16 oz. bag frozen, shelled edamame
1 English cucumber, diced
1 quart grape tomatoes, sliced in half
1 cup kalamata olives, sliced in half
6 oz. feta cheese with Mediterranean spices, crumbled
1 T dried oregano
1 tsp sea salt
2 tsp pepper
Directions:
Bring 8 cups of water to boil, add edamame and cook for 2-3 minutes or until heated through. Drain. In large bowl, combine all ingredients, including drained edamame. Stir to blend. Dig in!