(Drink Your) Greens Juice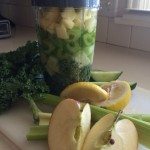 This is my variation on a popular green juice recipe. Do like I did; try lots of different combinations to come up with one that suits your palate. As long as your drink is primarily vegetables … and you love it! … you can't go wrong!
I don't own a juicer, so I prep my ingredients by removing the skin and seeds where needed. If your blender is powerful enough to pulverize them, go for it. If you decide you want just the purest juice, invest in a good quality juicer.
Ingredients:
1 green apple, cored and diced, with skin removed
2 stalks celery, diced
½ cucumber, peeled
4 kale leaves
¼ of a lemon, peeled
¼ inch piece of fresh ginger, peeled and diced
1 cup very cold water
Directions:
Once all ingredients are prepped, place them into blender. Makes one serving. Enjoy, and make your body happy!
In-Person Personal Training
Work with me one-on-one to improve lean muscle mass, cardiovascular endurance, and functional movement through weightlifting, body weight strengthening, and resistance training.
Learn More
Healthy Life Coaching Online
Whether your goal is to lose 100+ pounds (like I did!) or to break through long-standing barriers, we will empower you to reach your goals through evidence-based practices that will transform your health, happiness and longevity.
Learn More
What Clients Are Saying
Ready for a change?
Schedule your complimentary first call with me today!