Carrot Salad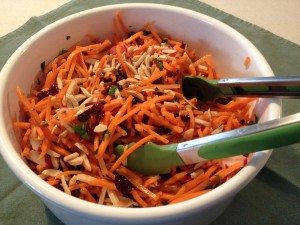 Ingredients:
¼ cup olive oil

2 T lemon juice

1 T flat leaf parsley, chopped

1 tsp Dijon mustard

1 tsp salt

½ tsp sugar

10 oz bag shredded carrots

½ cup 50% less sugar dried cranberries

½ cup radishes, very thinly sliced (or use red onion)

½ cup slivered almonds, toasted
Directions:
Wisk first 6 ingredients in large bowl. Toast almonds for 2 minutes on medium high heat, stirring constantly. Combine carrots, cranberries, radishes and almonds in bowl with dressing and toss to coat. Chill 1 hour and serve.