What's for Lunch?
Was your childhood lunchbox emblazoned with "Teenage Mutant Ninja Turtles" or maybe "Hello Kitty"? Was it made of fabric or plastic or metal? Maybe it was a brown paper bag. Here's what mine looked like.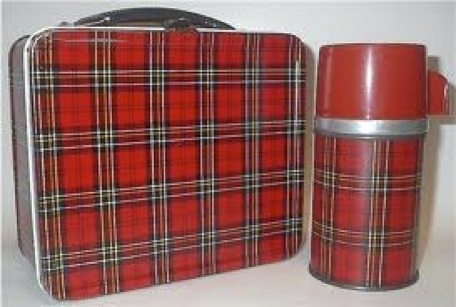 Yep, I had the matching thermos too!
These days my lunch is a little less buttoned-up but it's no less planned out.
It can't come as a surprise that I'm not a fan of spontaneous, ad-hoc eating. It leads to all kinds of eating behaviors that work against us as we try to lose weight and maintain a healthy lifestyle.
If losing weight and eating healthy are important then you must allow for the time it takes to prepare meals and snacks that support those goals.
Sign up for my newsletter!
What does that look like when the lunch whistle blows? Here are a few yummy and simple ideas that can be packed at home – and one on-the-run option – for your lunchtime dining pleasure:
Stagg Turkey Ranchero Chili: half of the can is one serving, so don't eat the whole thing, but it's only 260 calories and very filling with lots of protein and fiber. This stuff is dynamite!


Tuna and White Bean Salad Wrap: 2 cans drained, water-packed tuna, 1 can white or garbanzo beans, diced red pepper, diced yellow pear tomatoes, parsley, salt & pepper. Toss with lemon juice and a teeny bit of olive oil. Makes 4 wraps, roughly 320 calories. Or skip the wrap and save 100 calories, give or take.


Black Bean, Corn and Avocado Salad: 2 cans black beans, drained, ½ cup corn, 1 diced avocado, ¼ cup diced red onion, diced red pepper, 1 tsp cumin, salt & pepper. Toss with lime juice and a teeny bit of olive oil. Makes 4 servings, roughly 350 calories.


Last night's leftover dinner from home (which of course was very healthy, so why not eat it again?). You'll want to add protein to it – a few ounces of chicken, tuna or salmon. Much more about healthy dinner ideas next week, so stay tuned!


And finally one fast food, only-as-a-last-resort option that's actually not half bad:
It's the Taco Bell Fresco Bean Burrito. At 350 calories and 8 or 9 grams of fat (depending on which source you believe) and 9 – 12 grams of fiber (again, sources conflict) it's about as good an options as you've got for food that comes through a drive-thru window.
Whether we put it in a superhero lunchbox or in a paper bag, lunch deserves an important place in our day.
In Tuesday's blog I made a case for taking the time to eat mindfully to get all the pleasure and satisfaction you can out of your noontime respite.
Weight loss and maintaining a healthy lifestyle become so much easier when you eat foods that you love and you enjoy them in a way that is pleasurable.
Losing weight is hard, but it gets a whole lots easier. And you're so worth it!
Let's go get it!