Whatever you do, don't piss off the gingerbread man
"Run, run as fast as you can, you can't catch me … I'm the gingerbread man!"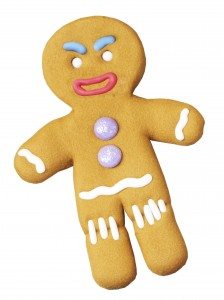 I don't know about you, but I'm probably not gonna chase after the gingerbread man. Besides the fact that this guy looks rather disagreeable, I'm currently doing a detox – which includes NO SUGAR. (Listen in to the podcasts linked below to find out why I'm doing it and how it's going.)
Sorry little fella, you're on the naughty list!
Even if you're not doing a complete sugar detox, the holidays are a good time to bring awareness to how we "spend" our calories. There are plenty of extra treats everywhere we go, including special family traditions (my mom makes the most delicious fudge and divinity candy this side of the North Pole), but we need to find a balance between those little extras and the rest of our food choices.
Bringing awareness to those choices means you may decide take a pass on certain holiday offerings (fruitcake, eggnog) so that you can indulge in a taste or two of an all-time favorite.
January will be here before we know it; in the meantime, I'm going to stick to my detox and tell the gingerbread man to go pester somebody else!
Have a happy, healthy week!
-Marilyn
| | |
| --- | --- |
| Podcast: Could a detox jumpstart your weight loss? | Podcast: Detox demystified |
| | |
| Are you a fitness scheduler or an opportunist? | Bring those baked goods into my gym at your peril |
| | |
| Four-mile run in the produce section | Watch your mouth! |
| | |
| Let's deck the halls! (but first, go help dad clean out the garage) | |
| | |