WEEK 3 MEAL PLAN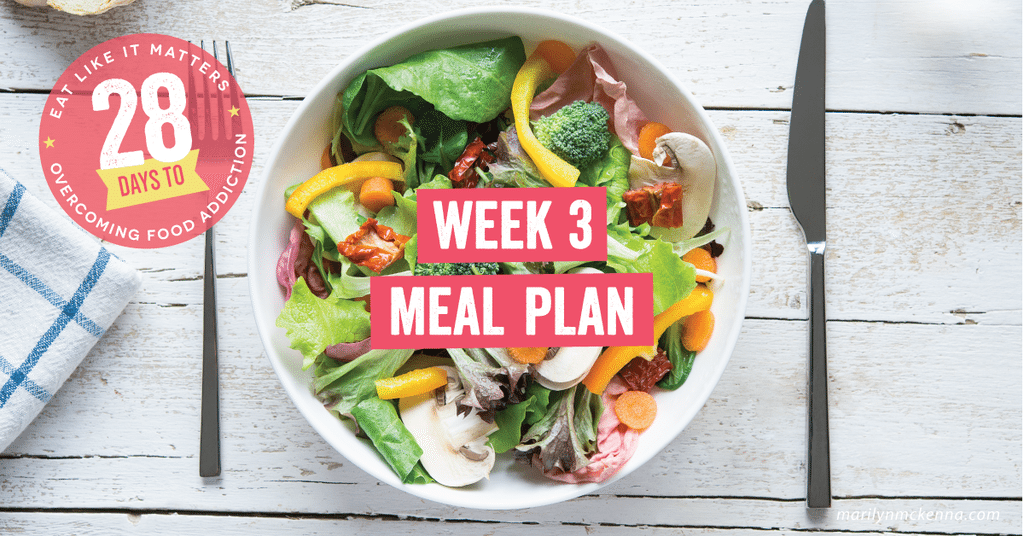 28 DAYS TO OVERCOMING FOOD ADDICTION WEEK 3 MEAL PLAN
  A few notes and tips for Week 3:
The halfway point! Wow! Great job!
Just like last week, you may substitute any meal or snack from WEEK 1 or WEEK 2 for any meal or snack here. Yay! Who doesn't love more options?!
This week you'll see we're adding new potatoes, those tiny little red and/or yellow potatoes that are a perfect "single serving" way to get our potato fix. We also have corn a couple of times this week!
The big news this week is the addition of chia seed puddings for our 9pm meal. Chia seeds are a high fiber, high-quality plant-based protein source. They're also jam-packed with antioxidants. But maybe my favorite chia seed attribute is their ability to expand and "gel" together other ingredients. It's that characteristic that makes them perfect for creating a healthy pudding. You'll see below, the basic recipe can be varied endlessly, so if you come up with an especially good one please post it to the Facebook group so we can all enjoy it!
*Make your nightly chia pudding at least 3-4 hours ahead of time, or as early as first thing in the morning before you leave for work*
Finally, you will notice that with the addition of potatoes, corn and puddings, we have one less cheat meal this week. Sunday night's dinner is now a regular meal. If, however, it works better for you to have a cheat meal on Sunday and not Friday or Saturday, feel free to swap that out. The idea is that we're down to two now.
Monday
7am: 5 oz plain, nonfat Greek yogurt + ½ cup blueberries + ½ cup slivered almonds
10am: 1 slice whole grain bread + ¼ cup ricotta + ½ sliced banana + 1 T chopped unsalted peanuts
12:30pm: 3 oz chopped grilled chicken + ½ chopped avocado + ½ cup black beans + ¼ cup corn + ¼ cup diced red pepper + ¼ cup halved grape tomatoes + chopped cucumber + 1 tsp lime juice + cilantro
3:30pm: Small handful of unsalted nuts (walnuts, almonds, cashews) + apple
6pm: 3 oz grilled cod + ½ cup brown rice + sautéed kale
*9pm: ¼ cup chia seeds + 1 cup light coconut milk + 1 T cocoa powder + 1 T sliced raw almonds
Tuesday
7am: ½ cup cooked oats + small Satsuma orange + 2 T almond butter
10am: 1 scoop whey protein powder + ½ cup frozen berries + 1 cup very cold water
12:30pm: 3 oz grilled flank steak + 1 steamed, diced new potato + 1 cup steamed broccoli + 1 T hot sesame oil + sesame seeds
3:30pm: 1 slice whole grain bread + hummus + ½ sliced avocado + cucumber slices + tomato slices + alfalfa or broccoli sprouts or microgreens
6pm: 3 oz grilled chicken breast + ½ cup cooked barley + green beans
*9pm: ¼ cup chia seeds + 1 cup unsweetened nut milk + ¼ cup mixed berries + 1 T chopped raw pecans *Make "Banana Nut Bread" overnight oats before bed
Wednesday
7am: "Banana Nut Bread" overnight oats: ½ cup oats + 1 cup unsweetened nut milk + 1 T ground flaxseeds +1 tsp vanilla + ½ sliced small banana + 1 T chopped walnuts + ¼ tsp cinnamon + pinch nutmeg
10am: 1 scoop whey protein powder + ½ cup frozen strawberries + 1 cup very cold water
12:30pm: 3 cups greens (arugula, romaine, spinach, mixed greens) + 3 oz shredded cooked chicken + 1 T white wine vinegar + 2 T EVOO
3:30pm: Small handful of unsalted nuts (walnuts, almonds, cashews) + apple
6pm: 3 oz grilled flank steak + ½ cup cooked quinoa + asparagus
*9pm: ¼ cup chia seeds + 1 cup unsweetened nut milk + ¼ cup canned pure pumpkin puree + ¼ tsp pumpkin pie spice
Thursday
7am: 5 oz plain, nonfat Greek yogurt + ½ cup berries + ½ cup slivered almonds
10am: 1 slice whole grain bread + ¼ cup ricotta + ½ sliced banana + 1 T chopped unsalted peanuts
12:30pm: 3 oz chopped grilled chicken + ½ chopped avocado + ½ cup black beans + ¼ cup corn + ¼ cup diced red pepper + ¼ cup halved grape tomatoes + chopped cucumber + 1 tsp lime juice + cilantro
3:30pm: Chopped or sliced veggies + 4 T hummus
6pm: 3 oz grilled cod + ½ cup brown rice + sautéed kale
*9pm: ¼ cup chia seeds + 1 cup light coconut milk + 1 T cocoa powder + 1 T sliced raw almonds *Make "Banana Nut Bread" overnight oats before bed
Friday
7am: "Banana Nut Bread" overnight oats: ½ cup oats + 1 cup unsweetened nut milk + 1 T ground flaxseeds +1 tsp vanilla + ½ sliced small banana + 1 T chopped walnuts + ¼ tsp cinnamon + pinch nutmeg
10am: 1 slice whole grain bread + ½ mashed avocado + tomato slices
12:30pm: 3 oz grilled flank steak + 1 steamed, diced new potato + 1 cup steamed broccoli + 1 T hot sesame oil + sesame seeds
3:30pm: Small handful of unsalted nuts (walnuts, almonds, cashews) + apple
6pm: Cheat meal! *9pm: ¼ cup chia seeds + 1 cup unsweetened nut milk + ¼ cup mixed berries + 1 T chopped raw pecans
Saturday
8am: 5 oz plain, nonfat Greek yogurt + ½ cup berries
11am: 3 egg whites + 1 whole egg + ½ cup diced bell pepper + ¼ cup diced onion + 1 cup spinach + ¼ cup chopped parsley
1:30pm: 3 oz grilled chicken breast + ½ cup cooked barley + green beans 4pm: 3 oz shredded chicken breast + 3 cups mixed greens + 2 T EVOO + 1 T flavored vinegar
6:30pm: Cheat meal!
*9pm: ¼ cup chia seeds + 1 cup unsweetened nut milk + ¼ cup canned pure pumpkin puree + ¼ tsp pumpkin pie spice
Sunday
8am: Chocolate Peanut Butter Pancakes
11am: 1 slice whole grain bread + hummus + ½ sliced avocado + cucumber slices + tomato slices + alfalfa or broccoli sprouts or microgreens
2pm: 4 oz grilled chicken breast + 1 cup steamed peas
5pm: 3 oz grilled flank steak + ½ cup cooked quinoa + asparagus
8pm: 5 oz plain, nonfat Greek yogurt + ¼ cup berries