Tuscan Salmon Salad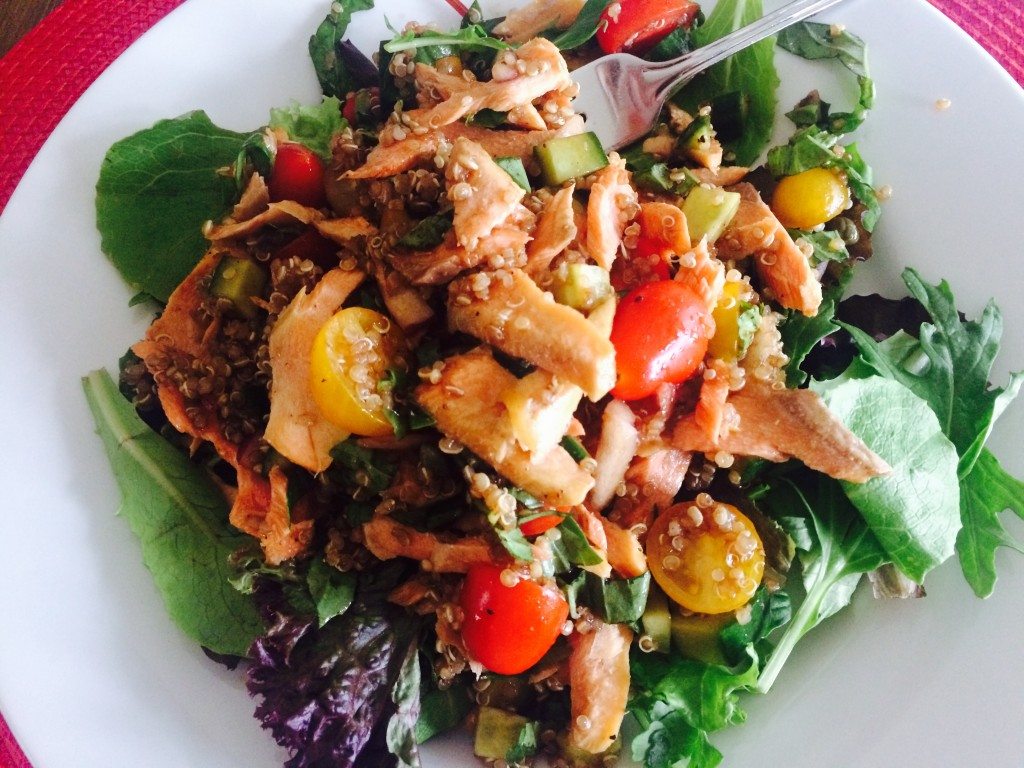 Is there ever a bad time to eat wild Alaskan salmon? Not when you're from the Pacific Northwest, like I am. Every May, news stations cover the arrival of the much-anticipated Copper River salmon from Alaska (on its own airplane, no less). This particularly fatty and flavorful salmon is only in season for a few weeks, and the taste is really worthy of the hype. Succulent Copper River salmon can hold its own even when paired with the bold flavors of this Tuscan Salmon Salad, but any good wild Alaskan salmon will be delicious in this dish. Makes 4 servings.
Ingredients:
8 oz. skin-on wild Alaskan salmon fillet
1 tsp salt
½ tsp pepper
1 T extra virgin olive oil
1 ½ cups cooked quinoa
1 cup red cherry tomatoes, sliced in half, diagonally
1 cup yellow cherry tomatoes, sliced in half, diagonally
½ cup red onion, diced
½ cup fresh basil, julienned
½ English cucumber, diced
2 T capers, rinsed and drained
4 cups organic mixed baby greens
¼ cup balsamic vinegar reduction* (or use red wine vinegar, if you prefer)
¼ cup extra virgin olive oil
Directions:
Preheat oven to 425o degrees.
Spray rimmed baking sheet with olive oil-flavored cooking spray. Lay salmon on baking sheet, skin side down, and top with salt, pepper and 1 T olive oil. Bake in preheated oven for 5-7 minutes or until meat flakes apart. Remove from oven and set aside.
Combine quinoa, tomatoes, onion, basil, cucumber and capers in large bowl. Whisk together vinegar reduction and olive oil and drizzle over quinoa mixture, tossing to combine.
When salmon is cooled enough to handle, flake fillet with a fork into small chucks, removing bones and discarding skin. Top quinoa mixture with salmon and toss to combine. Divide greens among 4 plates and top each with one-quarter of the quinoa-salmon mixture. Enjoy!
*To make the balsamic vinegar reduction, heat 1 cup balsamic vinegar in a small pan over medium high heat for about 10 minutes, or until liquid thickens slightly. Vinegar will continue to thicken upon standing. Store in airtight container in refrigerator for up to 2 weeks.