How to turn a wish into a vision
Do you have a friend who, every time to see him (or her), is full of energy and enthusiasm for whatever his latest passion is? His dynamic personality commands attention whenever he's in the room. His exuberance is practically contagious.
I have one of those, too.
My friend's name is Seth Landau, and he is a force. Seth is an entrepreneur who has run several successful companies. He's also a world traveler, a fierce friend and a student of life. There are few people in my life that I look forward to seeing more than Seth.
Among our hot, go-to topics these days are fitness and healthy eating. Seth lost weight and found a passion for healthy living along the way. The stories he shares and his no-hold-barred conversational style make for a great interview in this week's podcast. Listen in to hear how each of us turned a wish into a vision.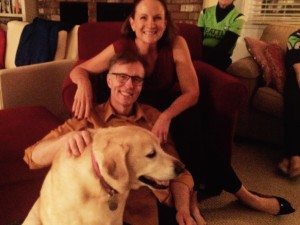 Of course, the biggest event this week was Thanksgiving! Ours was wonderful, with three out of four of our kids home and lots of extended family members gathered around our table. Though the turkey was delicious, the best part of the day may have been a big win for our beloved Seattle Seahawks against archrival San Francisco 49ers. Even our yellow lab, Stella, is a fan. #GoHawks
The countdown is on for Christmas, Hanukah and New Year's Eve, so let's make a plan now to prioritize healthy choices in the coming weeks. Doing so means we'll enjoy the holidays for many years to come!
Have a happy, healthy week!
-Marilyn
New this week
| | |
| --- | --- |
| Podcast with healthy living evangelist: Seth | Reinventing Black Friday |
| | |
| Gather 'round | Knock, knock, it's your mother-in-law |
| | |
| Bite-sized Thanksgiving desserts to die for | Recipe: Skinny Stroganoff |
| | |
| Recipe: Pico de Gallo | Recipe: Gluten-free protein bars |
| | |
| Recipe: Skinny Chicken Parmigiana | Recipe: Gluten-free Chocolate Peanut Butter Muffins |
| | |