Try-It Tuesday: Kickboxing!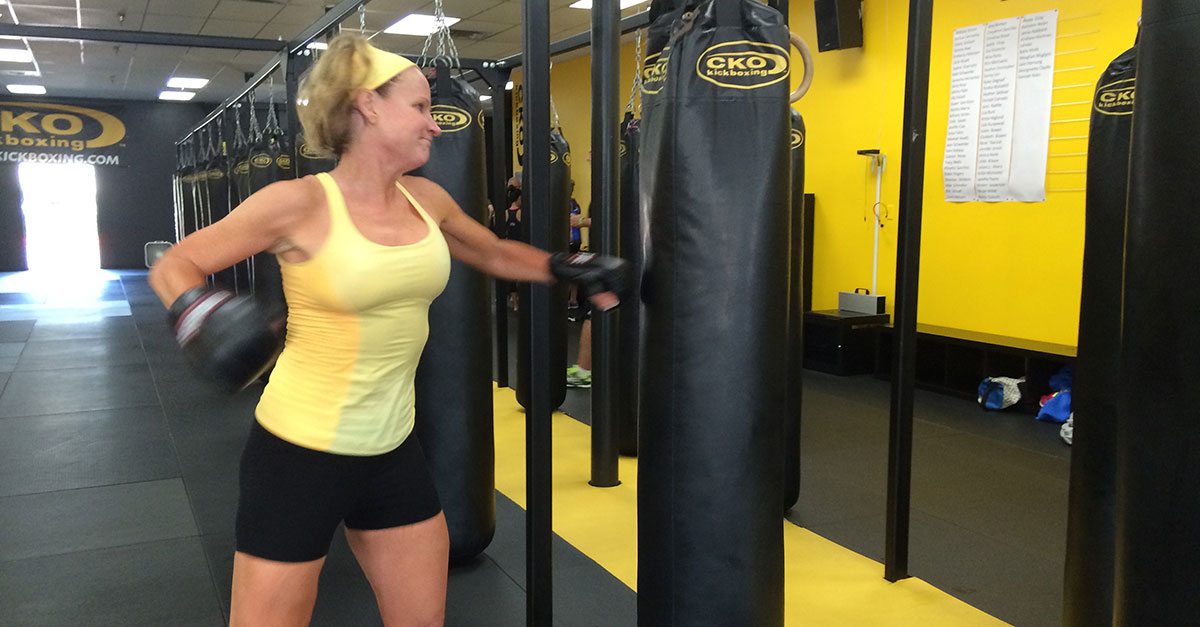 Let me start by saying: I like to hit stuff. Oh, it's not very ladylike or whatever, but I think it's very liberating. Good way to get out your frustrations, I suppose.
Still, when a friend invited me to try a class at the kickboxing studio she owns with her husband, I was uneasy. Never having done any kind of boxing or martial arts before, I was unsure: could I follow the moves? Could I do it with my chronic knee pain? Could I do it without embarrassing myself???
They jury's still out on that last one, but I've done it twice now and I'm here to say, not only did I not hurt myself, I loved every minute of it!
The class is structured so that both beginners and advanced students can work at their own level, with modifiers and breaks available whenever needed. I went to CKO Kickboxing Seattle, which is a franchise (based in New Jersey), but there are kickboxing classes at lots of gyms. The advantage to going to a studio that specializes in kickboxing is the heavy bags. Other classes may have the same moves (i.e. cross, jab, uppercut, roundhouse, etc.), but the bigger calorie burn comes from hitting a bag as opposed to swinging in the air.
Speaking of calorie burn, CKO Kickboxing's website boasts "up to 1,200 calories burned during a one hour class!" but I took a friend to class who was wearing a heart-rate monitor and her calorie burn was a much more modest 483. Even so, we had a blast and sweat buckets through the entire 60-minute class. Somehow we still had enough energy to pose for a quick-pic after class!
This is Audrey. Yes, she's a bit of rebel too!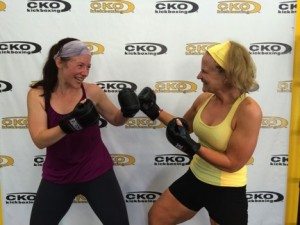 At CKO Kickboxing, the fast-moving class is divided into warm up, kickboxing cardio segments that are roughly 5-minutes in duration, interspersed with some running and other drills such as burpees, mountain climbers and push ups. There is ab-work, done on the mat, which includes familiar moves like twisters, side plank and bicycles. I think my favorite part of class is the opportunity to just get after it on the bag – sort of "freestyle" – hitting the living daylights outta the bag.
Class ends with a well-earned cool down and stretching. You're sitting in a pool of your own sweat at that point, so cleaning off the bag and your mat area is just good gym etiquette.
Maybe my favorite part of class is not any particular move, but the empowering "work-hard-because-you're-so-damn-worth-it" attitude of the instructors. At one point my instructor said, "Pace yourself outside of class; in here I want you to PUSH yourself!"
Oh my God, I think I love her! That's pure poetry to my ears!
And just in case you're thinking you're not really the kickboxing "type" (whatever that might be), my friend who owns the gym tells me that 70% of their clients are women. Of those, their target demographic is age 35-55.
I may not be the only girl who likes to hit stuff.
Try this workout. I'm betting you will like it. Even if you don't you will have pushed outside your comfort zone, which is always a good thing.
There's something to this whole idea of being a "fighter."
It's a great metaphor for healthy living. Whatever it is you want – health, fitness, weight loss – you've gotta be willing to fight for it.
I've got the bag right next to yours!
C'mon, we got this!