That tall skinny pumpkin spice latte has more sugar than a …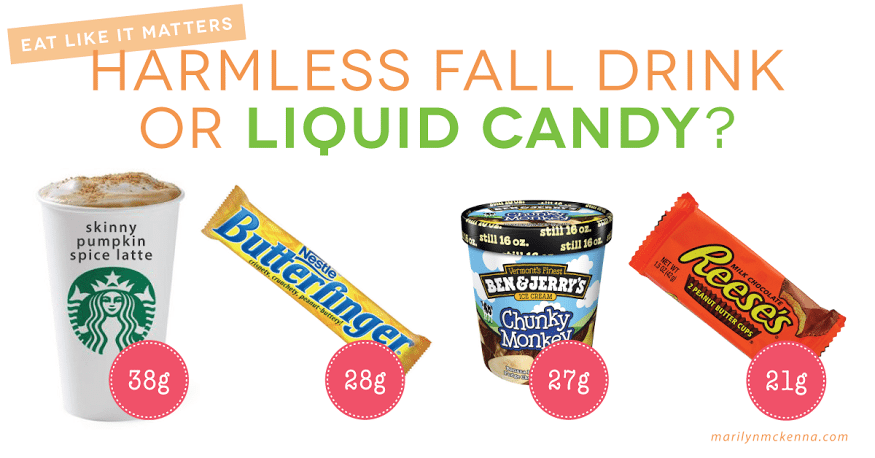 I walked into the Starbucks, hoodie up, eyes cast down. I glanced around quickly. Nope, nobody I knew in the place. Whew!
I'd seen the sign on the door: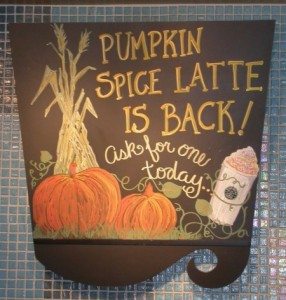 Was I gonna do it? Was I gonna order a #PSL (as the cool kids refer to the pumpkin spice latte)?
Sure, it was a crisp, early fall day. Sure, I could claim I was just surveilling for my blog. It had been several years since I'd had a PSL and, even though I thought I remembered what it tasted like, I should probably have one … for research purposes only, of course.
So I got up to the counter and ordered a tall nonfat pumpkin spice latte. No whip, no sprinkles. Nothing fancy. And I figured with a tall skinny I was mitigating the damage, right?
"Tall pumpkin spice latte for Marilyn!" the cheerful barista called out. (Though cheerful, she spelled my name "Maryland," like the state. Forgetting my own advice to always assume that others are trying their best, I silently rolled my eyes.)
Not wanting to burn my tongue, I waited a few minutes before taking my first sip. Would it be as good as I remembered? Upon tasting it, would I immediately be transported into an autumn reverie with visions of falling leaves and harvest moons swirling in my head?
The anticipation was killing me.
It felt so good in my hand, warm and inviting. I raised the cup to my lips; the smell was intoxicating, rich with cinnamon, cloves, ginger, and nutmeg.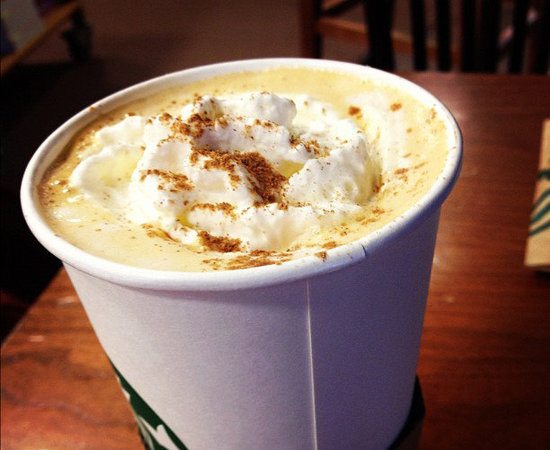 The first sip: holy hell, that's sweet! I could taste pumpkin yes, but mostly I just tasted sweet. Like, cloyingly, sickeningly sweet. Having said that I will confess: I drank the whole thing. (And not just for research purposes.)
When I came out of my sugar-induced stupor I realized I'd better look up the nutrition facts on that PSL I just downed.
O.M.G.
It wasn't the 200 calories that sent up all the red flags; it was the sugar. My tall skinny pumpkin spice latte (no whip) had 38 grams of sugar; that's the daily total as recommended by the American Heart Association. Not the total for breakfast. Not the total of "added sugar." That's the total amount of sugar recommended for an entire day.
Good grief.
That got me started thinking: I wonder how this drink stacks up against some of the favorite candy bars and desserts I used to eat? Not too far into my research I realized, that tall skinny pumpkin spice latte had more sugar in it than almost all of them.
Maybe it's not so skinny after all.
Increasingly, research shows that a high-sugar diet is as detrimental to our health – if not more so – than a high fat diet.
In fact, sugar is a triple threat:
It triggers a highly-addictive chain reaction of feel-good chemicals in our brains, making us want more.
It overwhelms the liver's sugar storage capacity, sending the excess (now converted to fatty acids) is sent into the blood stream and then stored as (you guessed it) fat.
Consuming sugar (or any simple carbohydrate) takes us out of fat-burning mode and into sugar-burning mode, which our bodies achieve by releasing high doses of insulin. You already know about the blood sugar and energy roller coaster that ensues.
And here I just thought I was having a harmless little seasonal coffee drink.
October now seems to be the unofficial start of the holiday season, a time of year when we all look forward to the comforting, traditional flavors that bring us back to childhood. But unhealthy, high-sugar coffee drinks are liquid candy that are more of a trick than a treat.