Super Bowl party throwdown!
Can anybody think about anything other than football right now?!? If you live in the Seattle area, as I do, you certainly can't! I'm sure the same can be said for those in the Northeast as well.
There's football mania going on everywhere we look right now as the teams prepare to do battle on the field and the 12s (aka Seahawks fans) do their best to support them at home, in sports bars and – for a few lucky souls – in the stands at Super Bowl 49. Most of us are going to be eating while we watch the game, but it's a challenge is to stick to our healthy living goals. If you're in need of something healthy to take to a party, or if you're hosting one, check out my Pinterest board "Get Your Game Day Snacks On" for ideas. As for me, I've got a chili bar planned where guests can choose from my Light White Turkey Chili or Bloody Mary Buffalo Chili that gets its kick from Bloody Mary mix and a splash of vodka.
If you started a running (or walking) program recently, check out my newest tutorial video. This run is the cure for the common boring treadmill run and will leave you sweating buckets and full of bravado. I promise, it will rock your world!
And if you find yourself unable to lose weight because of your raging hunger, watch this week's video "I'm hungry ALL THE TIME!" to get my quick and dirty top 5 tips for reining in your appetite.
Around here we'll be cheering our hearts out and hoping to repeat last year's Super Bowl win. Enjoy the game and Go HAWKS!
Have a happy, healthy week!
– Marilyn
---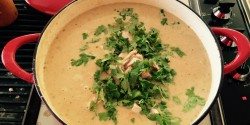 Recipe: Light White Turkey Chili
Besides the turkey, all the other ingredients were things I already had on hand, some because of Thanksgiving, but others just because they're always in my pantry or fridge. Serves 12. Read more…
---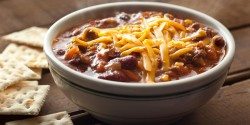 Recipe: Bloody Mary Buffalo Chili
A fun take on traditional chili with the addition of Bloody Mary mix and spicy Montreal steak seasoning, this chili is also made healthier by using lean ground buffalo instead of beef. Makes 8-10 hearty servings. Read more…
---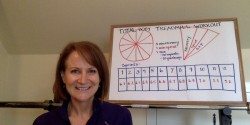 Video: Running Tutorial: Total Body Treadmill Workout
---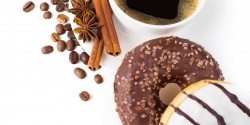 Try Your Own Detox: Tips for Kicking Caffeine and Sugar
I realized a few months ago that I was suffering from an energy crisis. Starting first thing in the morning, I would begin jacking myself up on caffeine just to feel human. Read more…
---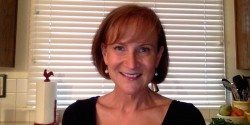 Video: "I'm hungry ALL THE TIME!"
---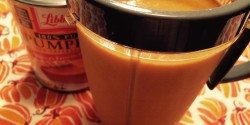 Recipe: The "Pumpkin-ator" Protein Smoothie
As part of the detox I started last fall, I've been drinking this low-sugar, low-carb protein drink every morning. It's packed with anti-oxidants and good-for-you protein. Read more…