Strawberry Salsa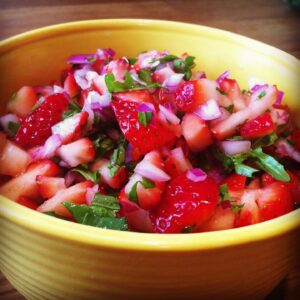 Ingredients:
2 pounds strawberries, washed and quartered
1 pound grape tomatoes, halved
¼ cup red onion, diced
¼ cup cilantro
¼ jalapeno pepper, minced
1 clove garlic, crushed
1 lime, zested and juiced
1 T olive oil
Directions:
In a large bowl, combine all ingredients. Toss all together to mix and coat. Cover dish and refrigerate for 2 hours to chill. Enjoy with pita chips, or over chicken or fish!