Spicy Peanut Shrimp Noodles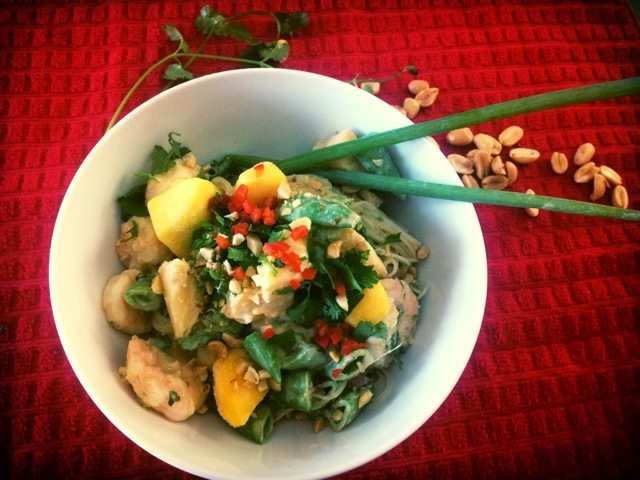 In my ongoing search to create recipes that come together faster than you can find your car keys to go pick up takeout, I put together some of my favorite flavors and combined them with super quick-cooking rice noodles. This dish is even prettier served in lettuce cups. Serves 6.
Ingredients:
1 2-inch piece of fresh ginger, peeled
1 large clove of garlic
3-4 limes
1 red chili
3 green onions
¼ cup cilantro leaves, minced
½ cup natural peanut butter (either crunchy or smooth)
8 oz. package rice noodles
8 oz. snap peas, chopped
1 lb. medium cooked, peeled and deveined shrimp, tails removed
1 cup mango, chopped
¼ cup peanuts, chopped
Directions:
In a large bowl, finely grate the ginger, garlic and zest from 2 of the limes. Juice either 3 or 4 of the limes (until you have ¼ cup of juice) and add to bowl. Finely chop ½ of the chili and the white part of the green onions. Add those along with the cilantro leaves to the bowl. Add the peanut butter and ½ cup hot water, whisking to combine. Set aside.
Bring a large pot of water to a boil; add shrimp and cook for 1-2 minutes, or until they're starting to turn pink. Then add rice noodles and snap peas to the water, cooking 1-2 minutes until noodles soften and peas turn bright green. Drain noodle mixture in a colander and run under cold water to stop the cooking process. Transfer the noodle mixtures to the bowl of dressing, tossing to coat.
Meanwhile, thinly slice the green parts of the green onions, the remaining ½ chili and the mango. Add them to the noodle mixture and toss to combine. Sprinkle with chopped peanuts, cilantro and lime wedges as desired.