Slow Cooker Healthy Apple Cranberry Crisp
I'm always looking for shortcuts to cut my kitchen time and using the slow cooker is one of the best ways there is. I chopped up apples while I was making dinner tonight, tossed them in the slow cooker, crumbled up the topping, topped the apples with it, put the lid on the cooker and set it on high. Two hours later, just as everyone was craving something sweet, I had a healthier version of apple crisp warm and bubbly in the pot and ready to eat!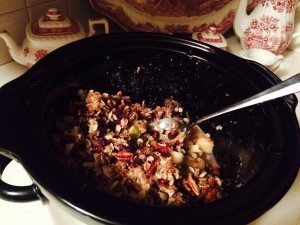 Ingredients:
6 apples, cored and diced (most varieties will work, but I like granny smiths)
1/3 cup whole wheat flour
1/3 cup old-fashioned oats (not quick-cooking)
1/3 cup Truvia brown sugar (it has 75% fewer calories than regular brown sugar)
1/4 tsp apple pie spice
2 T organic, unrefined coconut oil
1/3 cup chopped pecans
1/3 cup reduced sugar dried cranberries (such as Ocean Spray 50% reduced sugar)
Directions:
Place diced apples in slow cooker. In medium-sized mixing bowl combine flour, oats, brown sugar and apple pie spice. Cut in coconut oil with pastry blender or two knives until it's thoroughly integrated and mixture is crumbly. Add pecans and dried cranberries, stirring to combine. Distribute topping evenly over diced apples. Turn slow cooker on high for two hours or until apples are completely soft. Serves 6-8.