Skinny Stroganoff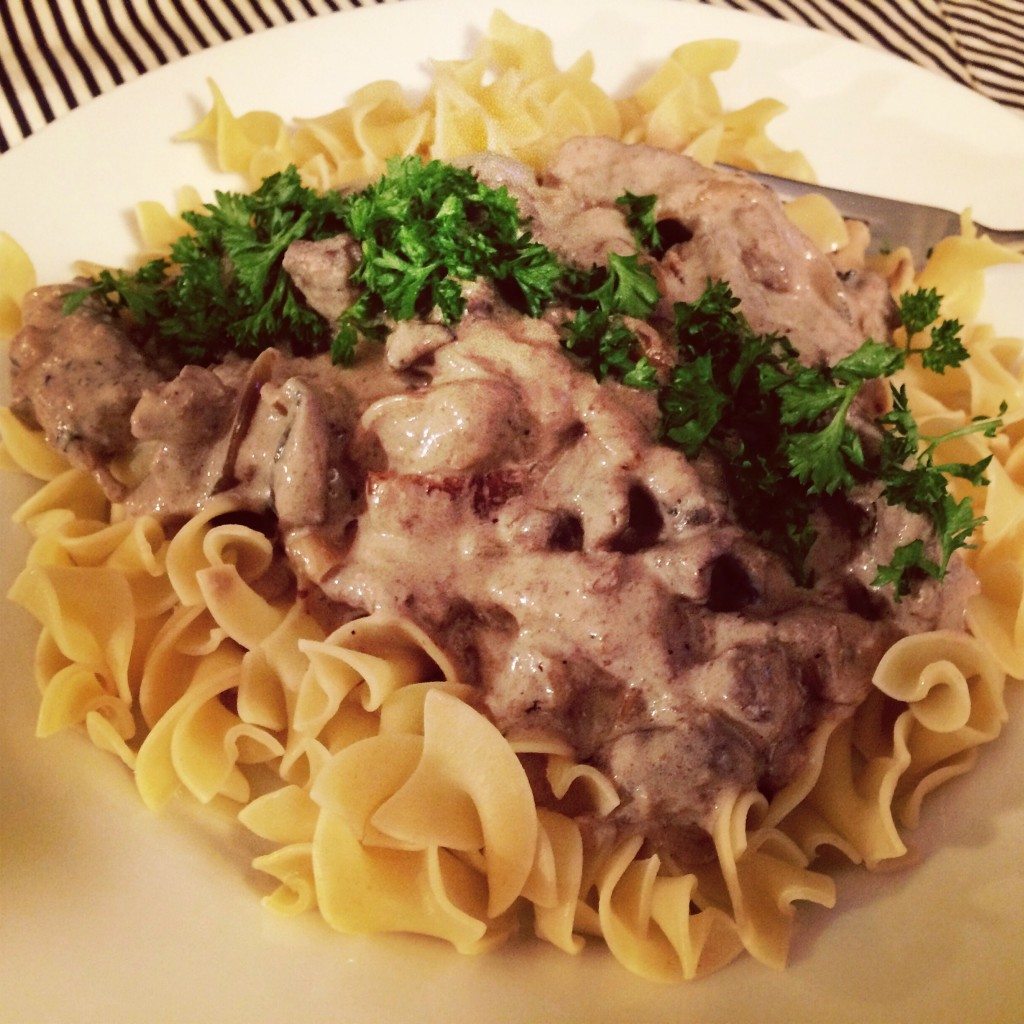 When Rob and I got married one of the first gifts he gave me was The New Housekeeping Cookbook (such an optimist, isn't he?). In it I found what would become a staple for our newlywed dinners, especially those first few cold winters when we lived in Chicago. I'm talking about Beef Stroganoff. All those years ago it was an easy, inexpensive meal to prepare, and in this healthier version, made with grass-fed, organic buffalo, I've retained all those same homey flavors, with less fat and fewer calories. Serves 6.
Ingredients: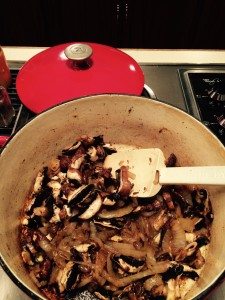 1 T canola oil
1 T butter
2 large onions, sliced
1 lb. cremini or white button mushrooms, sliced
1 envelope dry onion soup mix (such as Lipton)
1-1/2 lbs. buffalo steak, cut into 2″ x 1/2″ strips
2 T flour
1 T canola oil
10 oz. can beef broth
16 oz. fat-free sour cream
Directions:
In a large Dutch oven, heat oil and butter. Add onions and cook over medium high heat until caramelized, about 15 minutes. Add mushrooms and onion soup mix. Cook through, until mushrooms are softened. Set onion and mushroom mixture aside.
Put flour in a ziptop plastic bag and add buffalo. Seal bag and shake until meat strips are coated evenly. In same Dutch oven heat one tablespoon of canola oil and cook meat until thoroughly cooked, 8-10 minutes. Once meat is browned, add onion and mushroom mixture back to dutch oven and stir to combine. Add beef broth and sour cream, stirring until the sour cream melts into the broth making a creamy sauce. Heat thoroughly and serve.
For my husband and teenage sons I serve this over traditional wide egg noodles. I put mine over spaghetti squash for a healthier twist. Enjoy!