Roasted Turkey Breast in Cast Iron Skillet with Herbes de Provence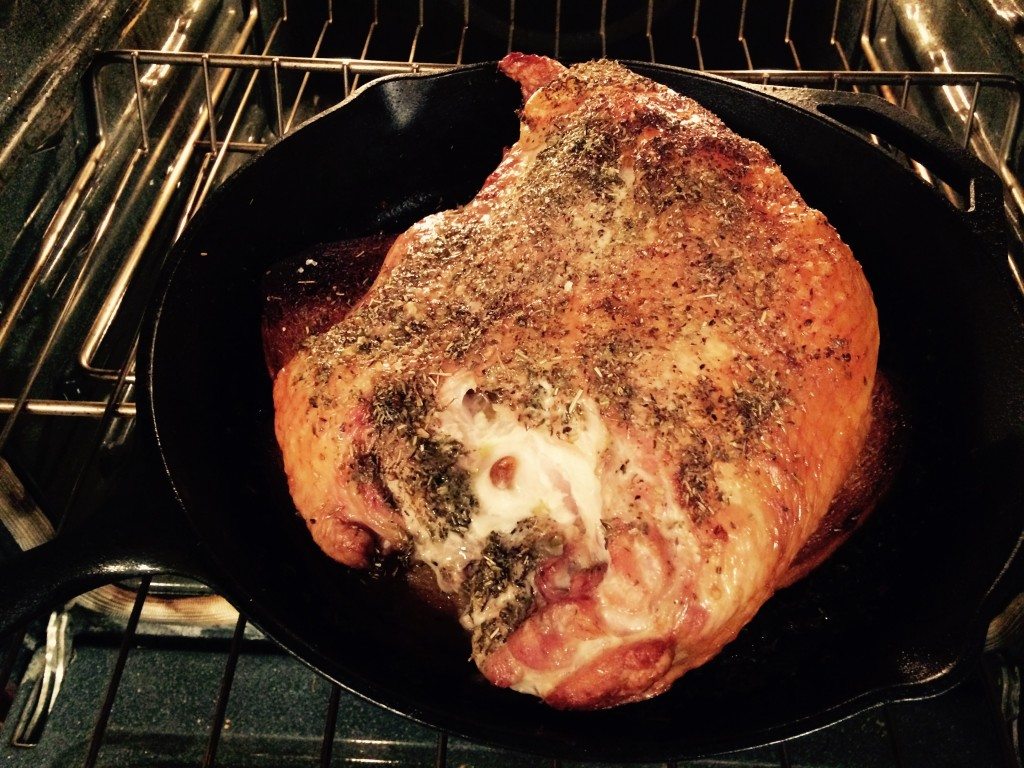 If you've never cooked with herbes de provence, I encourage you to try it. Herbes de provence typically contain savory, marjoram, rosemary, thyme, oregano and, for the American market, lavender leaves. I mix it with olive oil, salt and pepper and simply rub it on the turkey breast before roasting. The smell while it's cooking is intoxicating and the flavor it imparts is divine. I like to cook it in a cast iron skillet with toasted sourdough bread on the bottom to keep the turkey up off the bottom of the pan. The bread soaks up all the pan drippings and can be enjoyed with the meal or discarded. Once the breast is done, I move it to a cutting board to rest and cook fingerling potatoes and kale in the same cast iron skillet. So easy, so delicious! Serve 6.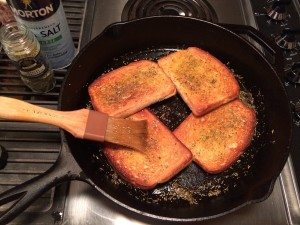 Ingredients:
6 pound turkey breast
4 T herbes de provence
1/2 cup olive oil
2 tsp salt
1 tsp pepper
4 slices sourdough bread (optional, to go underneath the turkey breast during roasting)
3 pounds fingerling potatoes, sliced lengthwise into uniform slices
1 bunch kale, trimmed of tough inner stem and cut into bite-sized pieces
Directions:
Preheat oven to 350 degrees.
In a small bowl, combine olive oil, herbes de provence, salt and pepper. Toast sourdough bread, if using, and place in bottom of well-seasoned cast iron skillet. Brush toasts lightly with olive oil mixture. Place turkey breast on top of bread and rub generously with half of the olive oil mixture.
Roast turkey breast in 350 degree oven for approximately 2 hours or until internal temperature is 160 degrees. I like to turn up the heat to 450 degrees for the last 20 minutes or so to really get a beautiful dark brown crust on the skin.
When the turkey comes out of the oven, remove it from the cast iron skillet to rest on a cutting board. Into the cast iron skillet place the fingerling potatoes and kale. Stir vegetables with remaining olive oil mixture to coat and roast in 450 degree oven for 30 minutes. Potatoes are done when they're fork tender. Serve with sliced turkey breast.