Roasted Beets with Oranges and Goat Cheese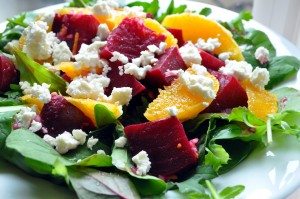 Ingredients:
Small bunch of beets (about 2 pounds)

2 T olive oil

2 tsp salt

1 tsp pepper

2 oranges, cut into segments

¼ cup goat cheese, crumbled

8 cups arugula
Dressing:
2 T orange juice

2 T olive oil

1 T orange zest

2 tsp Dijon mustard

¼ tsp salt
¼ tsp pepper
Directions:
Trim the tops and roots from the beets, but no need to peel them. Toss them in olive oil, sprinkle with salt and pepper. Put beets on aluminum tray, cover completely with foil and roast at 375 degrees until fork tender, anywhere from 25 to 60 minutes depending on the size of the beets.
When beets are cool enough to handle, rub the skins off with your fingers. Slice beets and combine with orange segments. Place beets and orange segments on top of arugula. Wisk dressing ingredients together and drizzle over salad. Sprinkle crumbled goat cheese on top and enjoy! Serves 4.