Roasted Asparagus (YUM!)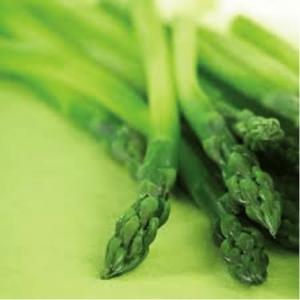 Prepare Asparagus for Cooking:
Trim inedible ends (an inch or two) off the bottom of the stalks. If the stalks are thick, peel the fibrous outer layer off with a vegetable peeler to within two inches of the top. Asparagus will cook more evenly.
Directions for Roasting:
Preheat oven to 450 degrees.
Prepare 2 pounds asparagus for cooking, per instructions above.
In a large, shallow baking pan combine the asparagus with salt and pepper to taste.
Drizzle with a tablespoon or two of olive oil and toss until coated.
Roast until spears are tender crisp and bright green, about 10 minutes.
Serve and enjoy as is, or shave Parmesan cheese (just a little!) on top.
Theoretically 4 servings, but knowing me I'd eat it all myself. Yum!