Roadblock Ahead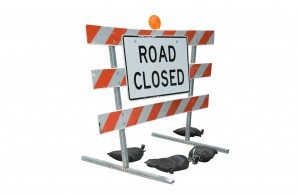 This is #7 of the "top 10 lessons that becoming an athlete have taught me about weight loss" that appeared in the "Building Sweat Equity" blog.
"When an obstacle pops up keep the overall goal in mind and find a way to climb over it, go through it, or work around it." 
Intellectually we all know that stuff happens, right? In our quest for fitness, a family move might take us away from a favorite exercise class or we get injured and have to stop running. (Ahem, me.)
In our weight loss journey, we run up against challenges and obstacles too. A plateau stalls our progress or a new job means less time to prepare healthy meals and snacks.
Even though we know obstacles pop up, they can be discouraging and cause us to fall back into old patterns. Until new eating and exercise habits are firmly established – heck, sometimes even after they're long in place – an unexpected setback can really throw a wrench in the works.
When that happens, take the time to really examine your new reality and ask yourself some hard questions about what you'll need to do to stay focused and on track. Reach out for help from family, friends, doctors or other community resources. The answers are there if you're willing to roll up your sleeves and do the work instead of throwing up your hands and claiming there's nothing you can do.
There's always something you can do.
Remind yourself of the end game – weight loss, fitness, a happy healthy life! – and stay true to the habits that will get you there.
C'mon, we got this!
Sign up for a chance to win a 3-month yoga membership
I go to The Yoga Element in Bellevue 3 times a week, an experience I find very rewarding and one that I want to share with you. The Yoga Element is offering one free 3-month membership to one of my readers. All you have to do is signup to be entered to win. I'll announce the winner on Saturday, May 17.