Road Kill: Healthy Eating While You're Traveling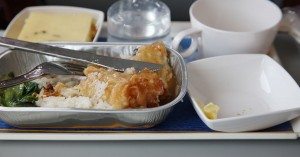 Airline food has a terrible reputation – mostly deserved – but truthfully food choices while traveling are often less-than inspiring. A walk through the airport food court is enough to send a hungry passenger reeling. Between the fast food outlets, Starbucks treats and Cinnabon (dear lord, that smell!) what's a health-conscious traveler to do?!?
Here are some of the most common food challenges we encounter while traveling and a few ideas for working around them:
Airport food court: If time allows, by all means pick a sit down restaurant; they're more likely to have fresh options. Having said that, they also have plenty of entrees covered in cheese, served with fries on the side. You don't need me to tell you those aren't healthy choices. Grab-n-go sandwiches and salads are preferable to the in-flight options, so take something on with you. Eat half of it once you get settled and save half for three or four hours into your flight.
On board airline food: Sadly lacking in fresh fruits and veggies, the in-flight offerings of airlines are almost universally abysmal. Ideally avoid them, but if need be take the peanuts, and always accept water when offered.
At the hotel: Well, no surprise the minibar in your room isn't a very good place to look for healthy snacks, though there may be a bag of nuts in there that could work in a pinch. Many hotels have a breakfast buffet that offers eggs, oatmeal and fresh fruit – all great choices to fuel a busy travel day. If not, hit a coffee outlet for a non-fat latte and a banana, my go-to breakfast anytime I'm out of town. 
In the car: Traveling by car allows for much more flexibility when it comes to packing healthy food. A small cooler with reusable ice packs will keep water bottles and pre-sliced fruit and veggies crisp. (Yes, you prepared them at home before departure.) Rather than stopping at restaurants or – gasp! – gas stations along the way, refuel at grocery stores where you can buy baby carrots and snap peas as well as sandwiches on whole grain bread. Make a batch of my favorite Vegan Thumbprint Cookies for the trip too!
At grandma's house: If your destination is someone's home you're going to need to be a good houseguest and choose from what you're served. Of course, if you're asked for your preferences suggest your healthy favorites, but if not make your best possible choices from what's available. And remember, just because grandma makes coffee cake for breakfast doesn't mean you have to eat it. She's likely got an apple and yogurt too, so have that instead. I'm kind of a cheeky old broad who doesn't mind asserting herself. There's nothing wrong with politely declining an offer of unhealthy food. If someone takes offense perhaps you need to ask yourself why they have so much invested in what you put in your mouth. 
General rule of thumb: Avoid the "vacation mindset" that shrugs and tells you, "Oh, lighten up! You're on vacation!" Any time you've got to eat on the go, fill up on lean protein and vegetables first. If you're still hungry, choose fruit (Confession: I've been known to substitute a raspberry mojito, on occasion. Ahem.)
Traveling is great (assuming your bag ends up at the same destination you do), but that doesn't mean you set aside your healthy living goals. Have a cocktail at the pool, share a dessert at a special restaurant, but stay true to yourself and what you want to accomplish.
Losing weight is hard, and eating healthy while traveling will certainly put that to the test. But it gets easier when you realize that taking good care of yourself is something you can do even when you're on the go. And you're so damn worth it!
Let's go get it!