Refrigerator Rehab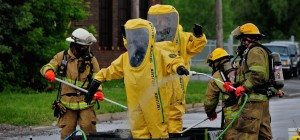 It's time to rehab the fridge as we continue our quest to create a "safe haven" in your home to support your weight loss goals. I'm really hoping we don't have to call in a HAZMAT team to clean it out!
Just like when we cleared out the hazardous foods in the pantry and cupboards, the refrigerator can be a breeding ground for foods that undermine our best efforts at healthy eating. Ideally, unhealthy food will not cross your threshold, but in case it has let's take a look at how to identify and eliminate those bad boys lurking in the fridge.
Today we'll root out the RED LIGHT FOODS which have no place in your healthy kitchen and those YELLOW LIGHT FOODS that are acceptable to have on hand, but must be eaten judiciously.
RED LIGHT FOODS: all kinds of soda, including diet; other sweetened drinks such as sweet tea and sports drinks; alcohol (don't yell at me); processed meats (hot dogs, packaged lunch meat, bacon, salami, sausage); processed cheese (Velveeta, American cheese slices, "cheese" in a can – I have no words to describe how vile that is); some dairy products including yogurt with ingredients you can't pronounce (think: little blue containers in bizarre flavors such as "Boston cream pie"), margarine, cream cheese, whole and 2% milk, half-n-half, whipping cream, things posing as dairy that are actually chemical concoctions such as coffee creamers and Cool Whip; most commercially-made salad dressings; jams and jellies made with high fructose corn syrup; anything with the slightest bit on mold on it – mold sends out spores into the food that cannot be seen, so even if you cut off the visible mold you can't be sure you're removing all the spores. It will make you sick, which might cause you to lose weight, but puking your guts out from food poisoning is not a method I recommend.
Now for the foods that are okay to have on hand, but require caution because they can easily be overused, thus undermining your weight loss goals.
YELLOW LIGHT FOODS: sliced deli meats (choose those processed minimally, with low sodium and nitrates); low-fat kielbasa, poultry sausages and turkey bacon (again, these are very high in sodium and should be eaten rarely); dairy products including all cheese not already eliminated (see RED LIGHT FOODS list above) because they are either high in fat (butter, cheeses, yogurt) or sodium (cottage cheese, ricotta, mozzarella) and must be eaten sparingly; fruit juices of all kinds (keep them on hand only if needed for recipes), condiments such as pesto, sun-dried tomatoes packed in olive oil, olives, mayonnaise, pure maple syrup, barbeque sauce, low-fat bottled salad dressings (Newman's Own are especially good).
Sign up for a chance to win a 3-month yoga membership
I go to The Yoga Element in Bellevue 3 times a week, an experience I find very rewarding and one that I want to share with you. The Yoga Element is offering one free 3-month membership to one of my readers. All you have to do is signup to be entered to win. I'll announce the winner on Saturday, May 17.

Everything you put in your refrigerator potentially goes into your body. If you're trying to lose weight, all of those choices should support that goal.
One reason I failed at weight loss time and time again is because I allowed unhealthy food into my house. When it's there but "off limits" to you, bad things happen:
you eat it (like I usually did) and curse yourself afterwards for being too "weak" to resist, or
you white-knuckle it out and don't eat it, all the while knowing it's there and expending tremendous mental energy resisting it.
I no longer have those battles with myself because the only food choices to be made at my house are good ones. So much simpler!
Losing weight is hard, but it gets easier when you create a "safe haven" of healthy living in your home. And you're so damn worth it!
Let's go get it!