Recipe: Chili Chicken Kabobs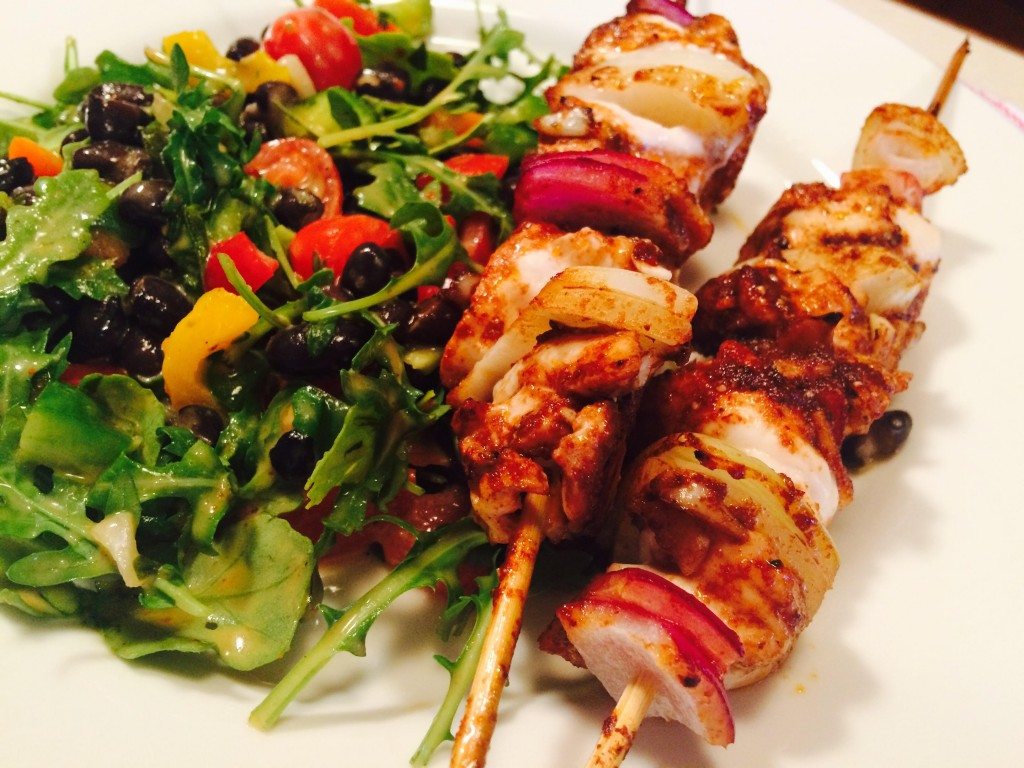 Confession: I use my family as guinea pigs for my recipes. I figure, they've gotta eat anyway, right? Might as well put them to use as my taste testers and critics. And believe me, they will tell me if they don't like something.
Fortunately, this one was a big hit. Given the way they gobbled up these kabobs, we're gonna be having them all summer long. Works for me! Makes 14 kabobs.
Ingredients:
3 T olive oil
1 T balsamic vinegar
Juice of one fresh lime
1 tsp chili powder
1 tsp cayenne pepper
1/2 tsp paprika
4 garlic cloves, pressed or minced
Sea salt and black pepper, to taste
1 large red onion, chopped into thick pieces
1 lb. boneless skinless chicken breast, cut into 1-inch pieces
Directions:
Soak wooden skewers in water for 10-30 minutes so they don't burn on the grill.
In a small bowl whisk together the olive oil, vinegar and lime juice. Add chili powder, cayenne pepper, paprika, salt, pepper and garlic.
Alternating chicken and onion, thread pieces onto skewers and lay skewers in shallow baking dish. Pour marinade over skewers and refrigerate for at least 30 minutes.
Preheat the grill to medium high.
Grill the skewers for 5 to 10 minutes or until the chicken juices run clear, turning as needed.
Note: Use pork, beef, buffalo tenderloin or turkey as alternative kabob meats. A sturdy, meaty fish such as salmon works well here too. Enjoy!
In-Person Personal Training
Work with me one-on-one to improve lean muscle mass, cardiovascular endurance, and functional movement through weightlifting, body weight strengthening, and resistance training.
Learn More
Healthy Life Coaching Online
Whether your goal is to lose 100+ pounds (like I did!) or to break through long-standing barriers, we will empower you to reach your goals through evidence-based practices that will transform your health, happiness and longevity.
Learn More
What Clients Are Saying
Ready for a change?
Schedule your complimentary first call with me today!