Recipe: 50 Shades of Greens Salad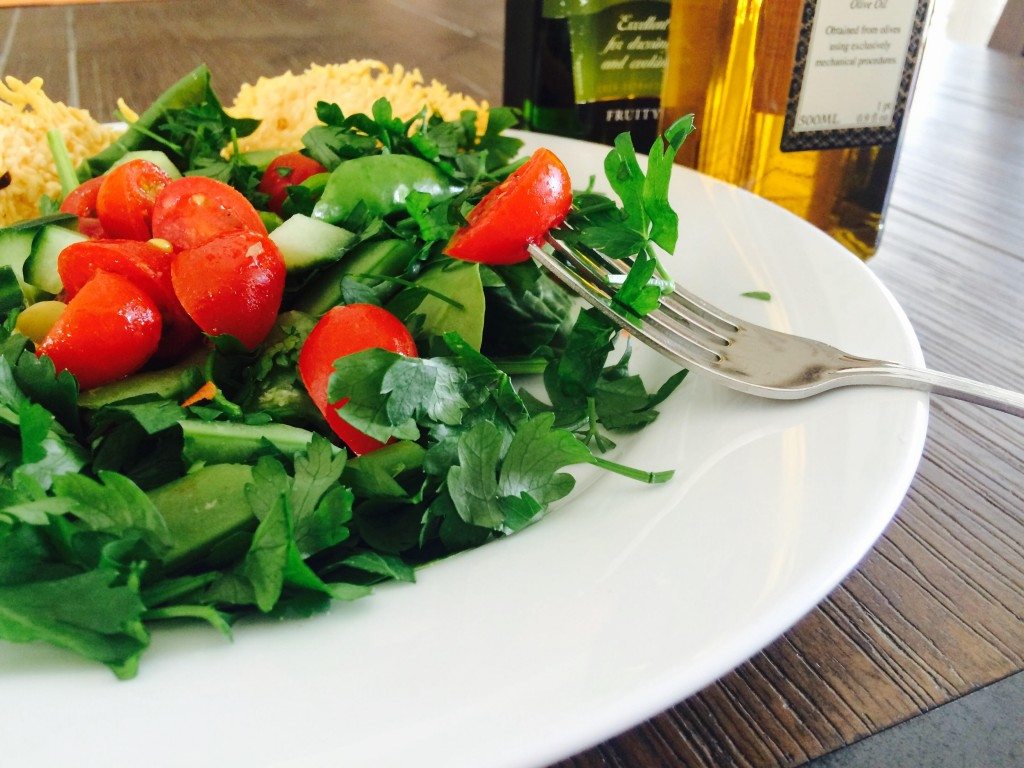 No real reason why this particular salad earns the designation of "50 shades of greens"; I guess I just thought it was funny. But truthfully, this is my favorite way to make a basic green salad. There is no simpler dressing and the cheese crisps make it feel like it's something really special when, in fact, they come together in seconds. If you have other veggies in your garden that might work better, by all means load 'em up! Makes 4 servings.
Ingredients:
1 cup grated Parmigiano cheese
4 cups salad greens, such as arugula, baby red or green leaf, or baby spinach
1 cup mixed fresh herb leaves, such as parsley, basil, oregano, chives or cilantro
1 cup grape tomatoes, cut in half diagonally
1/2 cup cucumber, diced into chunks
1/2 cup snap peas, rough chopped
1/4 cup extra-virgin olive oil
1/4 cup red wine vinegar
Salt (as desired)
1/4 cup toasted sunflower seeds
Directions:
Preheat the oven to 375o.
Make the Parmigiano crisps: Line a sheet tray with a silicone mat. Make 4 circles of Parmigiano cheese on the mat, and bake 7 – 8 minutes or until the cheese has melted and turned golden brown. Let the crisps cool and set aside.
For the salad: Combine greens and herbs in a large bowl. Add tomatoes, cucumbers and snap peas. Drizzle in half of the oil and vinegar, seasoning with salt and pepper if desired. Gently toss and add remaining oil and vinegar as needed.
Arrange among four salad plates. Sprinkle each with sunflower seeds and garnish with a Parmigiano crisp.