Product Review: Blue Apron "Dinner's Ready" Delivery Service



What's the #1 way to achieve a healthy lifestyle? Remove the obstacles that get in the way of your doing so.
One of the main reasons I hear people say that they can't lose weight and / or make healthy food choices is because they're too busy. Truly, we lead busy lives and eating healthy does take some time and planning. Shopping for healthy food, cutting up and prepping fresh fruits and vegetables, packing your lunch or snacks on-the-go – all of these things take time. And if time is at a premium for you, it may seem impossible to make time to do them consistently.
Removing obstacles is all about making it easier to do the right thing.
Blue Apron is a company helping you do just that.
What is Blue Apron? I'm so glad you asked!
Blue Apron is a nationwide service delivering farm-fresh, ready-to-prepare meals right to your door each week.
Here's how it works:
On their user-friendly website, choose whether you need 2-person or 4-person meals delivered weekly.
List your dietary preferences and restrictions so that you won't receive food you cannot eat.
Give them your credit card number (more on the cost in a moment), and you're off and running!
Your delivery shows up at your front door in an insulated box, kept cold with ice packs, that will stay fresh even if you're not home.
You prepare an incredible, restaurant-quality meal for you and your family in about 30 minutes. (See some that I've cooked pictured below.)
There are great how-to videos and cooking tutorials on their website if you need some coaching.
You pat yourself on the back for being an amazing chef.
Here's why I like it:
It could not possibly be easier! Blue Apron provides the highest quality, pre-measured ingredients possible. Your box contains everything you need to cook the recipes included. The recipe cards are very easy to follow (pictured at right)
You cook with delicious, seasonal, farm-fresh ingredients.
You cook with ingredients you may never have tried before and expand your palate.
The recipes are delicious! They're developed by top chefs, yet are easy to prepare – even for beginners.
Recipes are never repeated in the same year.
You can easily skip a week if you're going to be away.
Here's what I don't like:
The calorie counts are pretty high on these meals: 500-700 per meal. That's way too high for dinner for me; my dinners are typically 250-350. I've taken to portioning mine out so that I eat half for dinner one night and half for lunch the next day.
It's easy to get backlogged on too many dinners. Schedules are crazy at my house, and even though we may not be out-of-town, we're on the run a lot and not around to make this kind of sit-down dinner. For example, I have a delivery scheduled for tomorrow and I still haven't made any of last week's dinners yet! I have to remember to skip a week occasionally to get caught up.
Here's what it costs:
A 2-person plan consists of three meals weekly, or a total of six servings. The cost is $59.94 per week, or $9.99 per serving. Shipping is free.
A 4-person plan consists of EITHER four meals weekly or two meals weekly, depending on your preference. The cost is either $139.84 or $69.92 per week, or $8.74 per serving (either way). Again, shipping is free.
At $9 or $10 per serving, is it more expensive than some options? Yes, definitely. But so is throwing food away because you've bought more than you and your family can eat, and so are medical bills as a result of eating a cheap, crappy diet.
Using Blue Apron is a great way to remove one of those obstacles to healthy living that we talked about earlier. I love letting the folks at Blue Apron do the planning, shopping, measuring and prepping for me. I also love knowing that I've got delicious, high-quality meals ready to prepare, even on crazy-busy nights when we might otherwise be tempted to get takeout.
**And here's a fun bonus … the first three people to email me their name and email address will get a FREE WEEK of Blue Apron to try. Email me at: [email protected] for your chance right now!**
The Laotian Larb Gai was soooooo delicous!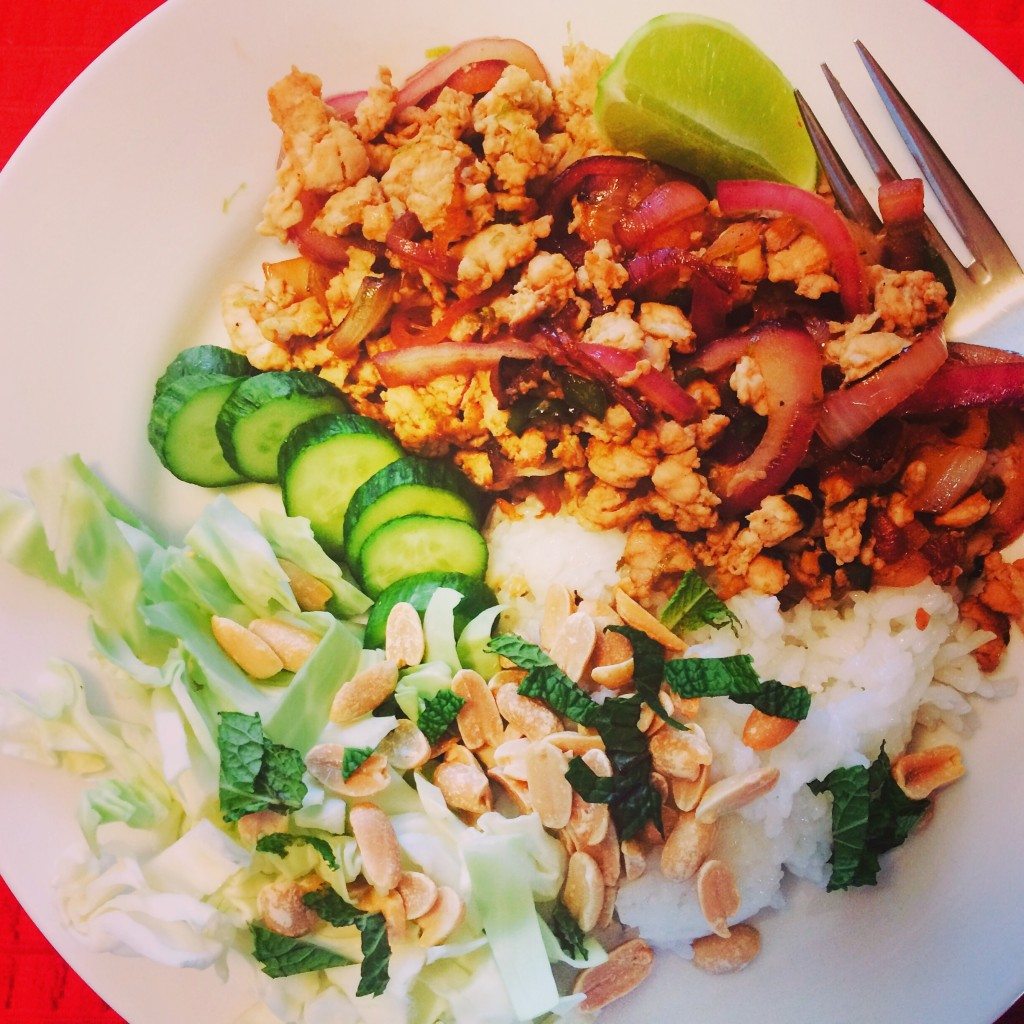 The Dukkah-Spiced Salmon was outta this world!