No Excuses Travel Workouts
"Bathing suit for hanging out by pool? Check!"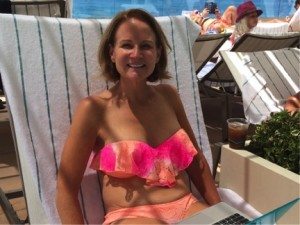 "Sandals for the beach? Check!"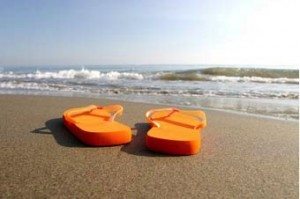 Salacious romance novel for plane? Check!"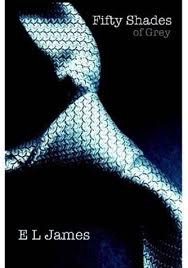 "Workout clothes??? Ummmm…" YES!!!
Almost any trip, for work or pleasure, will be made better by sticking to your fitness routine.
And while your exact workout may be different on the road, there are still plenty of things you can do to ensure that a trip doesn't undo your healthy living goals.
Here are a few of the places you may find yourself this summer and some exercise options you can fit into those travels. No excuses!
At the beach: If you're at the beach – like I was recently (above) – make use of the sand! It's great for lounging on (please, wear sunscreen!) but it's also an excellent surface to run or walk on. Sand provides natural resistance because it shifts under your weight. You must engage the small muscles in your lower legs to help you compensate. Plus, how is it not just the most glorious thing to get up and go for a walk on the beach early in the morning?!?
At a hotel: Most hotels have some sort of fitness center, though truthfully many are glorified closets. Cardio machines are always good for a 30-minute HIIT (High Intensity Interval Training) workout, but make use of the free weights too. On my recent trip I did the workouts on my website: lower body strength training one day and the upper body the next day!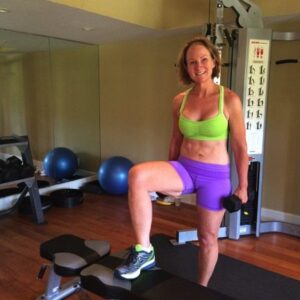 I also bring my TRX trainer with me sometimes and do exercises in the room. The TRX was designed by a Navy SEAL, and the exercises can be done in very little space. It hooks over any door and is super compact, making it ideal for travel.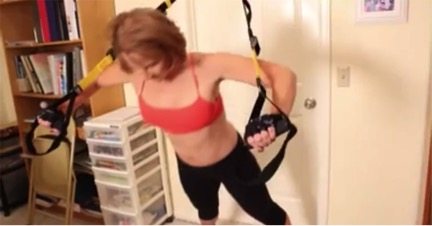 Visiting relatives: If you're staying at someone's house, ask if they have a gym membership. If so, they likely have guest passes that you can utilize while you're staying with them. My YMCA membership allows me to use Ys around the country free of charge. If your relatives live close to a river or lake, take a day trip to go kayaking or river rafting. Or maybe the topography is more conducive to a hike in the mountains. Doing something active together creates memories that will last a lifetime!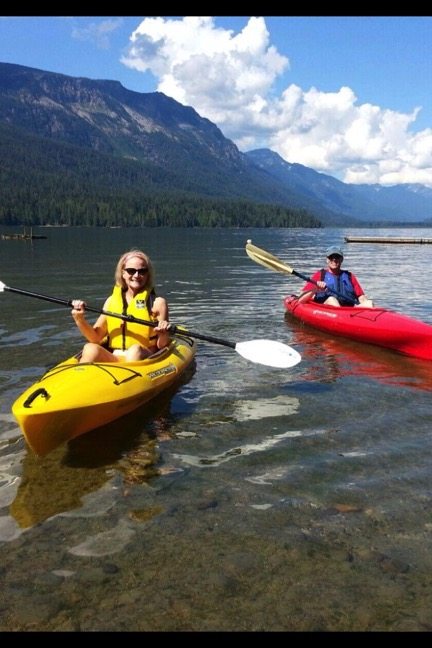 Kayaking on Lake Wenatchee, August 2013
 If you travel regularly for work, find ways to build a fitness routine into your schedule. Just like healthy eating, exercise must be done consistently to reap the benefits. Besides keeping your healthy lifestyle on track, exercise makes it easier to recover from jet lag and deal with lumpy hotel mattresses.
Having said all of that, not all vacations offer opportunities for structured exercise. On our trip last winter to Germany and Austria my family and I were on the go from dawn to dusk, making the most of the sights on this once-in-a-lifetime trip. I didn't workout at all for two weeks.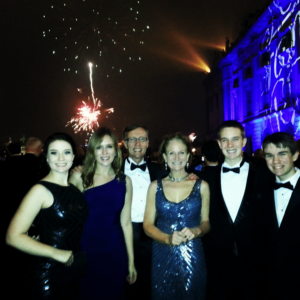 Vienna, Austria, New Year's Eve, 2013
More importantly, I picked up right where I left off when I returned, never missing a beat. I was thrilled to discover I hadn't lost any fitness capacity in those two weeks.
We put a lot of time and effort into fitness; it's nice to know it won't all come undone if we have to take a short sabbatical. Just be sure to come back and hit it hard when you get home!
Losing weight is hard, but it gets easier when you commit to healthy lifestyle changes that you can do every day whether you're at home or traveling. And you're so damn worth it!
Let's go get it!