New year, fresh start!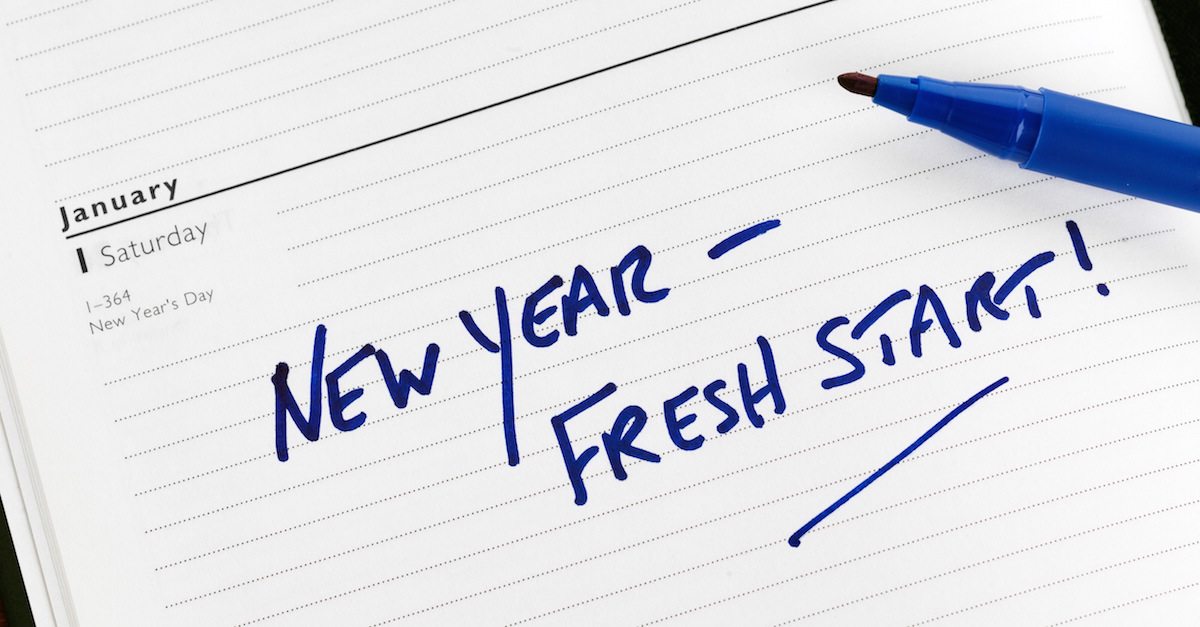 If you're ready for a fresh start, I've gotcha covered this week!
Ready to dip your toes into a running program? In an all-new video, watch me explain how to start a running program, no matter what your current level of fitness. It's easier than you might think!
Did you make a New Year's resolution to eat more fruit and veggies? Me too! Just this week I had my first delivery from a local, organic farm that delivered a box of the most luscious produce right to my doorstep. If you don't live in the Seattle-area – like I do – try Googling "local produce delivery" to see if there's a service near you. It's a great way to try some new things!
And read about a fun way to enlist your health-conscious friends to join you in your healthier lifestyle in "The Game On! Diet." My friend Cami's been having great success with it, so take a moment to read her first-hand account of how it works and why she thinks it's a blast.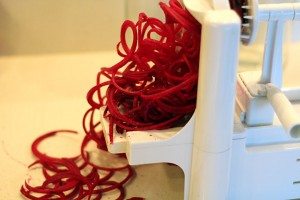 Also this week, I've been "in-spiralized" using my new spiralizer! It's so fun to turn veggies into beautiful spirals that can stand in for pasta, or to make gorgeous salads. From beets to zucchini to sweet potatoes, if it's not nailed down I'm gonna spiralize it!
Moving forward, I want the Eat Like It Matters community to be your healthy lifestyle "dream team." To that end I'm assembling a group of experts who will be sharing with us their best tips for everything from personal style to raising healthy kids. You've got lots more on your mind than just weight loss and fitness, and so do I because eating like it matters is just part of living like it matters. That's something we all can aspire to!
Have a happy, healthy week!
-Marilyn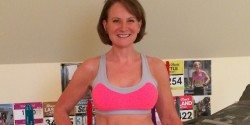 Video: How to Start a Running Program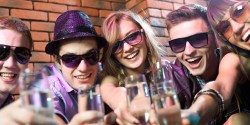 How to Eat Like It Matters (when no one else is)
A 20-something friend asked me the other day, "My social life pretty much revolves around going out for drinks with friends, watching football together and going out for brunch. All of our activities involve eating and drinking. How am I supposed to lose weight without giving up my normal hangouts? Read more…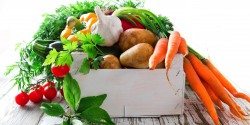 Fresh, organic produce delivered to your front door
My dear friend Paige Green Dunn recently introduced me to the greatest invention since sliced Ezekel bread: home delivery of fresh, local, organic produce. She was telling me about it over lunch the other day, but then I discovered that she'd written about it on her own blog, "Mom Around Town." Read more…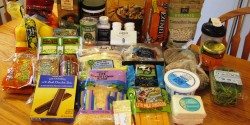 The Game On! Diet
There is absolutely no one-size-fits-all in the world of weight loss. What works for your BFF may not work for you. But the beauty of it is human beings are endlessly creative when it comes to problem solving. Read more…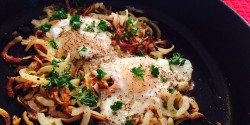 Recipe: Sweet Potato Hashbrowns with Eggs
My new vegetable spiralizer is in big demand in my kitchen! I've had success with making zucchini "ribbons" which I put to good use in my "Chicken with Zucchini Ribbons and Avocado Pesto" so I thought I'd start testing other vegetables to see what I could come up with. Read more…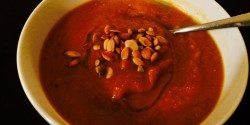 Recipe: Rosemary Sage Pumpkin Soup
My BFF has been raving about a Rosemary Sage Butternut Squash Soup (recipe here) she found on www.serenityinthestorm.com. One of these days I must try it, for sure! One dreary January weeknight recently I was wishing I had a bowl of that soup, but I didn't have all the ingredients. Read more…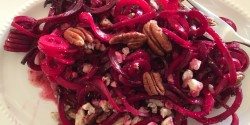 Recipe: Roasted Beet Ribbons with Goat Cheese and Pecans
It's worth getting a spiralizer, if for no other reason than to spiralize beets. Roasting whole beets can take more than an hour; roasting spiralized beets takes five minutes. You heard me, five minutes! This recipe can be easily upgraded to a main course by adding cooked chicken. Read more…