Grab-n-go breakfast sandwich
Put down that nasty protein bar! I know you're in a hurry. I know you've got hungry mouths to feed. Me too! In addition to the "make ahead" versatility of this grab-n-go breakfast sandwich, there are nearly infinite ways you can put it together. Top it with smoked salmon for a super healthy yet decadent option, or just add mild cheddar for a picky eater. You'll find a list of a few options that work well at my house (I cook half of the eggs with sautéed spinach for my husband and half without for my son), but I'll bet you can come up with even more ideas to customize it for your family. They're gonna love it!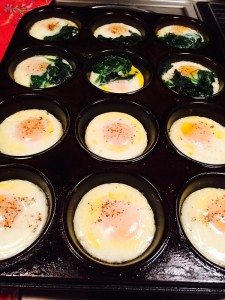 Basic Ingredients:
butter-flavored cooking spray
12 eggs
salt and pepper to taste
100% whole wheat english muffins
Directions:
Preheat oven to 350 degrees. Spray muffin tin with cooking spray. Break one egg into each muffin cup in standard muffin tin. If desired, place spinach or other veggies in muffin cups with egg. Season with salt and pepper. Bake eggs for 12-15 minutes or until yokes are cooked through. Toast english muffins and top with any combination of the optional ingredients below. Sandwiches can be assembled and wrapped in plastic wrap for a week's worth of grab-n-go breakfasts, or store the cooked eggs in an airtight container in the refrigerator and assemble as needed.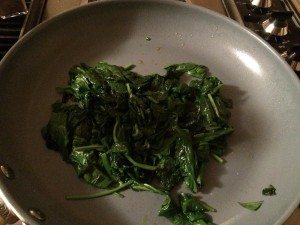 Optional Ingredients:
Goat cheese, plain or with garlic and herbs
Feta cheese, plain or with sundried tomatoes and herbs
Cheddar cheese
Smoked salmon
Bacon, prosciutto, Canadian bacon or ham
Sautéed spinach
Grilled or sautéed vegetables: mushrooms, onions, peppers (I use leftovers, if I have them)