Chorizo Stew with Kale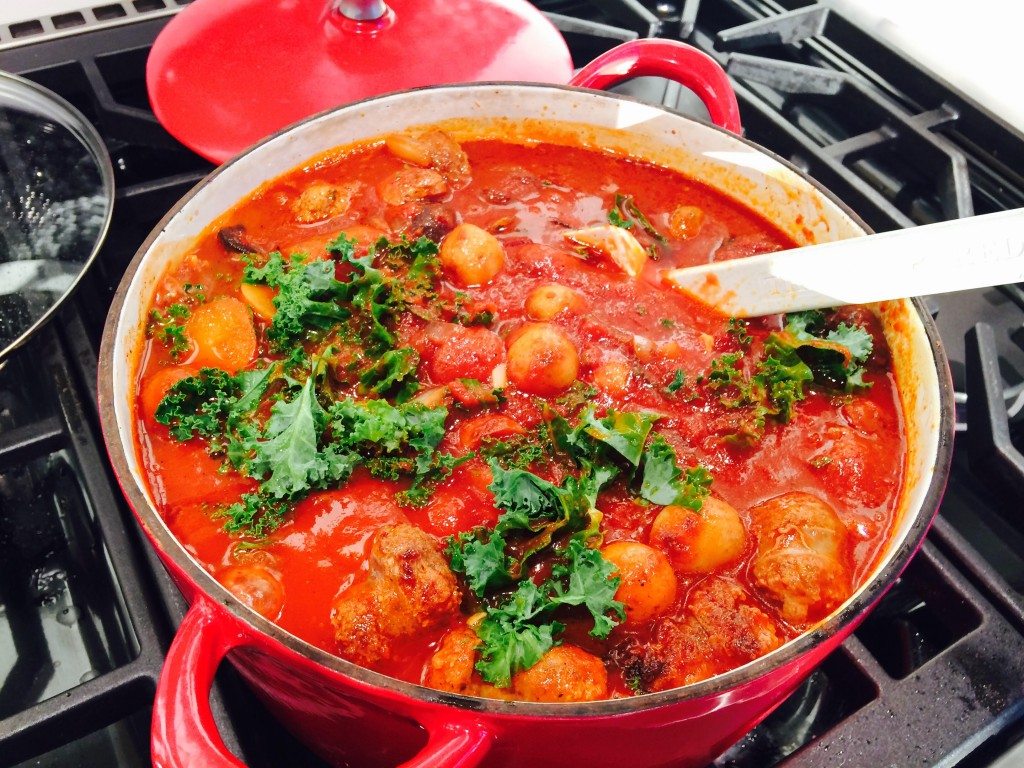 As much as I hate to bid farewell to summer I adore the warm and colorful flavors of fall. This stew is a perfect match for a cozy Sunday night dinner on a crisp fall day.
Spanish chorizo is slightly different from Mexican chorizo, so use Spanish if you can find it. Its slightly sweet, smokey flavor is perfect in this stew. Serve it with a hearty side salad of romaine lettuce with a hint of something sweet in it like dried currants, to complement the stew. Yummmmmmmmm, save me a seat! Serves 6 – 8.
Ingredients:
2 Tbsps extra virgin olive oil
2 lbs. Spanish chorizo, outer casing removed and cut into 1-inch chunks
1 lb. tiny white, red and purple new potatoes, cut on the diagonal
Salt and pepper
1 large onion, diced
5 cloves garlic, peeled and minced
1 Tbsp smoked sweet paprika
2 bay leaves
2 – 28 oz. cans of stewed tomatoes
4 cups low-sodium chicken stock
1 bundle curly kale, stemmed and chopped
Directions:
Heat the olive oil in a Dutch oven. Add the chorizo chunks and cook through, stirring as needed, about 10 minutes. Remove from pan with a slotted spoon and set aside.
To chorizo pan drippings, add potatoes and cook over medium heat until they start to soften and brown, about 8 minutes. Add salt, pepper, onion, garlic and paprika to pan, cooking until onion and garlic soften and become aromatic, about 4 minutes. Add bay leaves, tomatoes and chicken broth. Bring to boil and reduce heat. Simmer on low heat for 20-30 minutes. Remove bay leaves. Add kale and chorizo, stirring until kale wilts, about 2-3 minutes. Enjoy!