Chocolate Energy Bites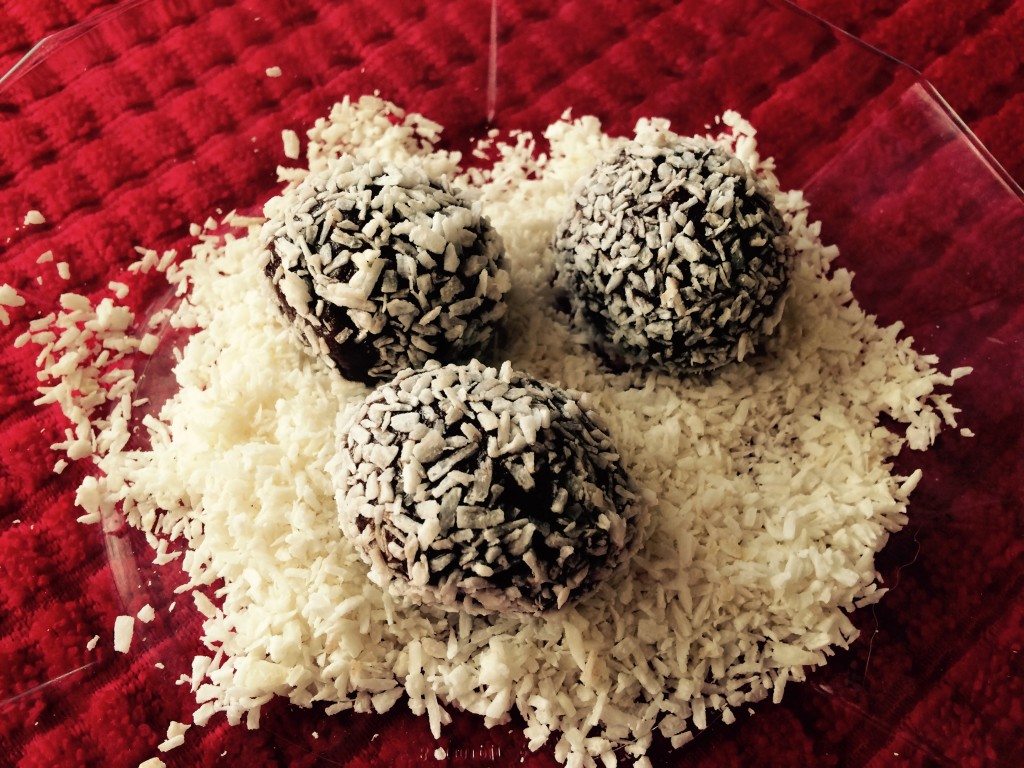 "Forgive me Father, for I have sinned," I whispered as I put the delectable morsel in my mouth. I chewed slowly, the flavors unleashing an explosion of earthy, sweet, salty goodness in my mouth. If I have to do a little extra time in purgatory, it'll be totally worth it, I thought.
"You know, those are made with honey and olive oil. They're organic, no chemicals, no preservatives. They're totally healthy!" the clerk exclaimed.
"Well, shut the front door!" I said. "Wrap 'em up!"
Those delectable morsels were a tasty little find at a local juice joint I frequent, and while they're delicious, they're very expensive. I can't afford to buy them regularly so I set out to see if I could replicate them at home. Guess what?!? Success!
Ingredients:
1 cup walnuts
1/4 cup extra virgin olive oil
1/4 cup honey
2 T 100% unsweetened cocoa powder
1 tsp coarse salt
1/3 cup coconut flour
2 T shredded, unsweetened coconut
Directions:
In mixing bowl of a food processor with blade attachment on, process walnuts until very finely chopped. With processor running, drizzle in olive oil and honey and mix until combined. Add cocoa powder, salt and coconut flour to bowl and pulse to combine. Dough will be sticky. Turn out dough into a small mixing bowl, cover with plastic wrap and refrigerate at least 30 minutes.
Use a very small ice cream scoop (1 1/2″ diameter, pictured at right) to scoop chocolate mixture into balls. Roll dough between your hands to form uniform balls, working quickly so dough stays cold. Roll balls in coconut and refrigerate to store. Makes 15 energy bites.