Chicken Cashew Lettuce Wraps
Ditching the tortilla (or rice, or bread, or pita, or naan) in favor of a crisp, fresh lettuce leaf is one of the easiest ways to cut calories and carbs from your favorite wrap. After all, the tortilla (or rice … or bread) is just a way to hold the delicious stuff inside! The yummy stuff inside this wrap doesn't need any distraction. It's spicy, succulent and just a little bit sweet. Serves 6 to 8.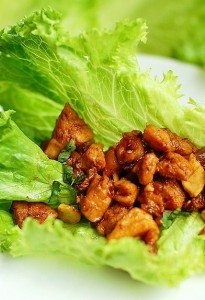 Ingredients:
1 tsp soy sauce
1/4 tsp ground ginger
1 T pure maple syrup
1/2 tsp crushed red pepper flakes
1 T sesame oil
1 T rice wine vinegar
1/2 tsp salt
1/4 tsp pepper
cooking spray
2 chicken breasts
1 small onion, diced
2 cloves garlic, minced
1/2 cup cashews, chopped
8 leaves butter lettuce
Directions:
In container with sealed lid (such as a mason jar) combine: ginger, maple syrup, red pepper flakes, sesame oil, rice wine vinegar, salt and pepper to make sauce. Set aside.
Spray large skillet with cooking spray and heat pan to medium high heat. Add diced chicken and brown, about 4-5 minutes. Remove chicken from oil. Add onions, garlic and 1 teaspoon soy sauce to pan; brown. When onions and garlic are brown and tender, add sauce, browned chicken, and cashews. Saute mixture for a few minutes and remove from heat. Spoon chicken mixture into individual lettuce leaves. Add your favorite hot sauce, more cashews or basil, if desired.