The Caped Crusader cleans his room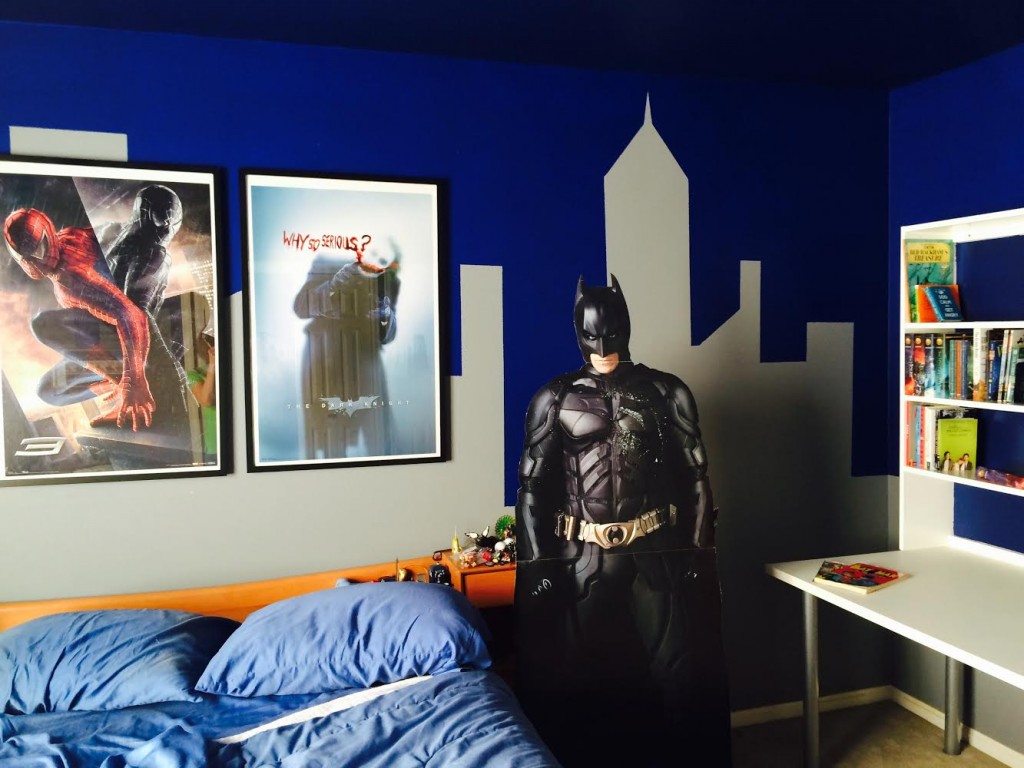 My son Connor, now almost 15, was a superhero junkie in his younger days. When he was little, it was all about Batman, Spiderman and Superman. Of course, there was a certain macabre fascination with their arch villains as well. The Joker especially was a rival worthy of respect. Connor was so enamored with superheroes that I created his very own "Gotham City" in his room. To this day, The Caped Crusader stands watch (in the form of a life-sized cardboard cutout) to protect the unsuspecting innocents.
But our family is planning a move in a few months (we're building a house; click here to see what it looks like now), and that means we've got a household of six + one oversized yellow Labrador retriever to get organized.
With the help of my mom (aka "Nana"), who has a certain "if-it's-not-nailed-down-it-goes" attitude about organizing, I set about clearing out closets to make the daunting task of moving somewhat more manageable when the time comes.
At least, that's how it works in theory.
This week mom and I started clearing out years worth of "treasures" that Connor has been squirreling away in his room … and on his bookshelf … and in his closet … and under his bed. He is a packrat of the highest order, and since he's also currently the only McKenna child still living at home, I figured his room was as good as any to start.
Clearing out his closet was akin to an archeological dig, where excavation of one layer reveals another one underneath. At the bottom of it all was a pile of Legos that, had we snapped them all together, could reach to the moon and back.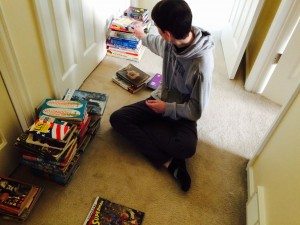 Though he is a packrat, I cannot find fault in the fact that Connor is a voracious reader and has never disposed of a book in his life. I forced him to go through his collection, and even he agreed that he could probably part with a few Captain Underpants and Diary of a Wimpy Kid books that were cluttering up his bookshelf.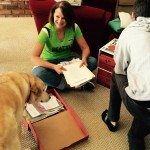 Sorting through school papers and memorabilia from elementary and middle school was so much fun that even Stella (our oversized yellow Lab) wanted in on the action! Though I think everything he ever did was adorable, Connor and Nana prevailed and we kept only the most precious mementoes.
When we finally got it all put back together – after cleaning all the furniture, dusting off the items that were deemed worthy to stay, and boxing up those items to either store elsewhere or donate – it was like a huge weight had been lifted from our shoulders.
Thing about moving is: it forces you to make conscious decisions about all the stuff that's been accumulating around the house. We push away the troublesome task of proactively choosing whether or not we need certain items, and instead elect to just shove them in a drawer (or closet, or cupboard). What difference does it make if we save this one little thing?
Well, eventually it does make a difference.
Whether it's because we're moving or not, we can feel trapped by the weight of our accumulated stuff, and by our own inability to make decisions about it. In some ways our stuff and that paralyzing procrastination are similar to being overweight: making a dent in the problem seems impossible. The effort seems pointless. There is so much to do it is difficult to know where to begin.
Just start where you can.
Take that first step, no matter how small. The project as a whole seems insurmountable, I understand. But clearing out one closet at a time, establishing one new healthy habit at a time, is manageable. And over time each of those small victories will add up to completing a mission that once seemed impossible.
At least, that's what I'm counting on.
As of today, this is what Connor's room looks like at the new house. It takes a little imagination to picture what it's going to look like when it's done, but I think The Caped Crusader will be pleased.