Brussels Sprouts with Currants and Pine Nuts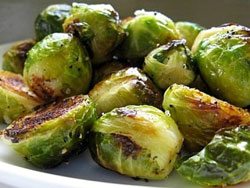 Last year I made this for Thanksgiving dinner for the first time. For that celebration I made it with dried cranberries, instead of currants. It's delicious either way!
Ingredients:
1 pound Brussels sprouts
1/4 cup pine nuts
Olive oil-flavored cooking spray
2 T dried currants (or use dried cranberries)
½ tsp dried thyme
¼ tsp salt
¼ tsp pepper
½ cup vegetable broth (or chicken, if you prefer)
Prepare Brussels Sprouts for Cooking:
Cut ¼ inch from bottom of each sprout, then remove any bruised or tough outer leaves. Rinse and cut sprouts in quarters.
Directions:
Heat a large skillet over medium high heat. Add pine nuts to pan and cook 2 minutes until toasted, stirring constantly. Speaking from experience, don't walk away; they will burn! Remove from pan. Spray pan with olive oil cooking spray. Add Brussels sprouts, currants, thyme, salt and pepper to pan; toss to combine. Add broth. Cover, reduce heat to medium low and cook for 7-10 minutes or until sprouts are tender but not mushy. Uncover and cook until most of the liquid evaporates, another 3-4 minutes. Remove from heat; sprinkle with toasted pine nuts. Makes 6 servings.