Book review of Eat Like It Matters by PoweredByBLING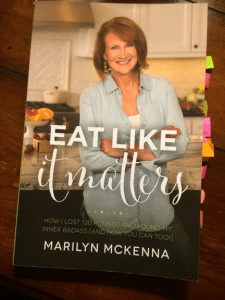 When Cassandra Burke (aka "poweredbyBLING") contacted me asking if she could review my book Eat Like It Matters: How I Lost 120 Pounds and Found My Inner Badass (And How You Can Too!) I was only too happy to ship off a copy to her. Even so, there's always a moment of fear when an author sits down to read a review of her work. But Cassandra, who describes herself as "a woman on a mission to stay active with her family, get back to fit and live by her motto 'Challenge Yourself to Cross Your Own Personal Finish Lines'!", said she lost track of how many "a-ha" moments she had reading the book:
One of my A-ha moments came from a tough love passage which very harshly says "Not only do I think you're in denial, I know you are.  I was more than a hundred pounds overweight, and you don't get to be that heavy and not live in denial. You just don't…Truth is, your brain may be in denial, but your body is a reflection of what you do to it and for it every day. So, your body's not in denial."    
This A-ha moment let me realize that I have to own that the consequences of my behavior resulted in the body that is my reality and now I must choose to proactively decide how to define success and happiness for myself.  Through continued therapy, I must work on taking on too many commitments that allow me to excuse myself from taking care of me which in turn makes me feel overwhelmed, anxious, and tired all the time which in turn leads to lack of exercise and overeating.  Clearly, I need to work through the emotional turmoil and become more self-aware to have a fighting chance at liberating myself from these demons that lie beneath.
To read the rest of PoweredbyBLING's review, please click here.