Book excerpt: Chapter 9 "Get Moving! How Exercise Helped Me Heal"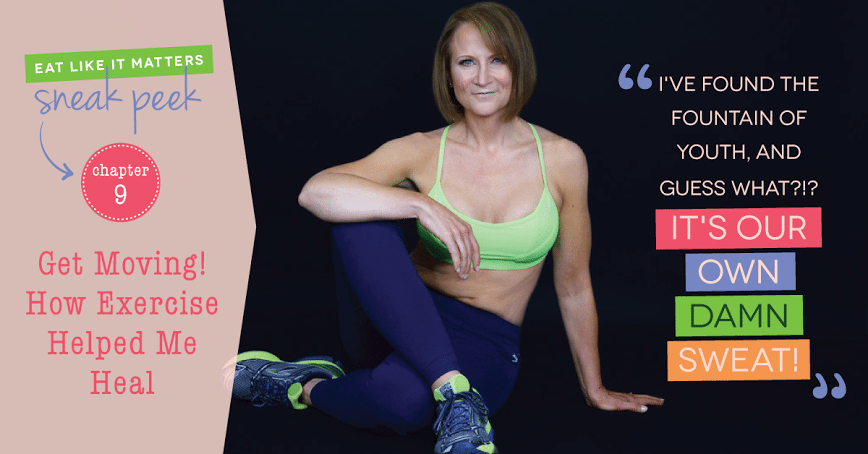 From pages 151 – 153 of Eat Like It Matters:
Does everybody have an inner athlete? I dunno. I do know that 120 pounds ago I would've told you that I didn't have one.
Turns out, I was wrong.
I do have an inner athlete, and I have harnessed her strength and drive to finally put to rest the food demons that tormented me most of my life.
Becoming an athlete means that I have learned to trust my body and myself. I know that I am made of some seriously tough stuff, because I prove that over and over again—with every race, every challenging workout, and every time I decide not to stay up late or go out and drink too much because I've got an important workout in the morning.
Exercise has so many lessons to teach about finding passion, discipline, and drive, each of which is essential to transformational change. Among the most important of those lessons is that if you don't intrinsically enjoy what you're doing, it won't last. When I applied that principle to food, I came up with my strategy of the two tables. Remember, a food must be healthy to be on my table, but I must absolutely love it too. If I didn't love all of the healthy foods on my table, I would end up feeling deprived or get frustrated. I wouldn't be able to maintain my new eating habits. This same principle works in fitness too. So while exercise is important for the myriad health benefits and the calories we burn, it should also be a kickass good time!
If that hasn't been your experience before, then you're in for quite a treat. The way you tap into the fun is by figuring out what floats your boat. That is, what kind(s) of exercise do you find pleasurable? Don't worry if you don't know the answer to that question right now. Remember, though, we're not talking about "fun" in the same way that going shoe shopping (ahem, I have a slight shoe problem) or getting pedis with your gal pals is fun. I mean "fun" as in challenging, stimulating, exciting, exhilarating. The kind where you feel a sense of accomplishment at the end. The kind where you feel a bit of bravado afterward because you just did something pretty damn amazing.
Yeah, that kind of fun.
That kind of fun is addictive (maybe even more so than a new pair of shoes). Simply put, it is a rush.
That rush transforms exercise from something you "should" do into something you can't wait to do!
Here's how it works for me: I get bored really easily; I mentioned I have the attention span of a gnat. My workouts need to be mentally challenging, not just physically challenging. For that reason, I like swimming and yoga: both require my full attention, as I need to be very aware of my body position and good form. I also enjoy moving toward a goal, so training for specific events meets this need for me. Whether it's a running race or a triathlon, I like the buildup and structure of a specialized regimen.
I've also figured out that I like some solo workouts and some social ones. I love the communal energy of a spinning class, but I always run alone. Maybe you enjoy the camaraderie and accountability of a softball team or meeting a friend after work for a group Zumba class. Whichever kind of exerciser you are—and if you're like me, you may be a little bit of both—take the time to discover what you really, truly love. Whether it's the competitiveness of racing or the solitude of being out on the water, sculling at dawn, go on a search for the workouts that feed your soul. Ultimately, it's less important what we do than why we do it.
When I dug in to find my inner athlete, she didn't emerge right away. I searched. I stumbled. I pulled over and asked for directions. But in my searching, I found her. Along the way, I came to realize that I wasn't just building sweat equity toward physical fitness; I was creating a life that was full of new purpose and meaning. So now athlete is a moniker I wear just as proudly as I wear wife, mother, and writer. I'm betting …
Click here to purchase Eat Like It Matters: How I Lost 120 Pounds and Found My Inner Badass (And How You Can Too!) to change the trajectory of your life and your health!