Bloody Mary Buffalo Chili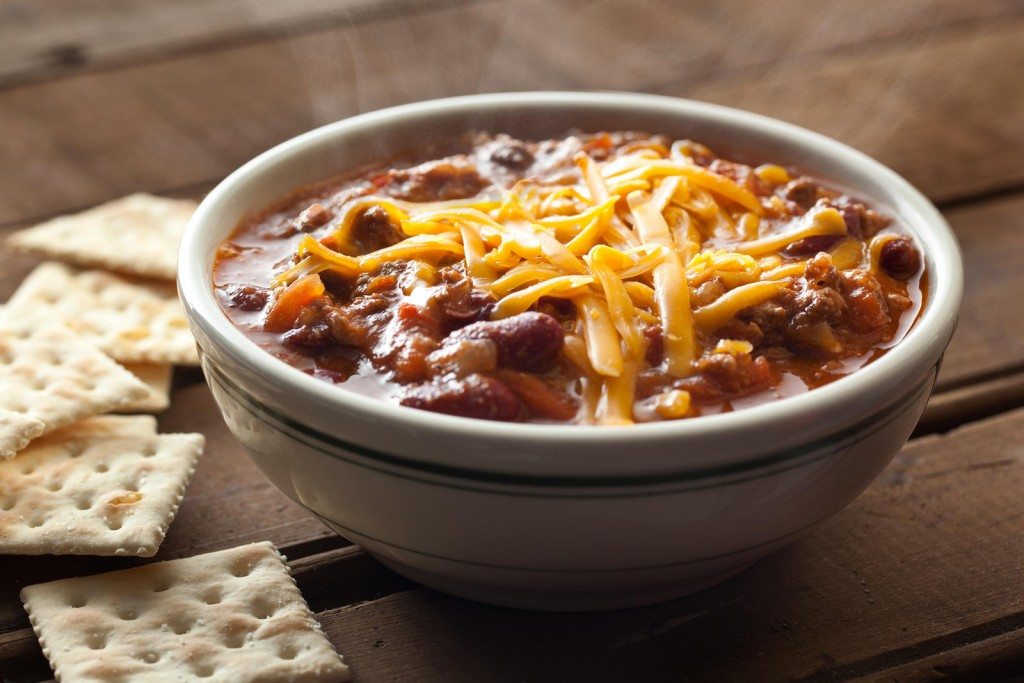 A fun take on traditional chili with the addition of Bloody Mary mix and spicy Montreal steak seasoning, this chili is also made healthier by using lean ground buffalo instead of beef. Makes 8-10 hearty servings.
Ingredients:
1 T olive oil
2 stalks celery, diced
1 onion, diced
2 cloves garlic, chopped
3 pounds ground buffalo (ground beef works too)
1 T chili powder
1 T ground cumin
1 tsp ground oregano
15 oz. Bloody Mary mix
1/4 cup vodka (optional)
1 T Montreal steak seasoning
Several dashes Tabasco, or to taste
Several dashes Worcestershire sauce, or to taste
2 15 oz. cans kidney beans, drained and rinsed
2 15 oz. can pinto beans, drained and rinsed
Directions:
In a large pot over medium heat, add the olive oil and saute the celery and onions until soft. Add the garlic and stir, then add the ground buffalo. Cook until browned, 5 to 10 minutes; drain off the excess fat. Stir in the chili powder, cumin and oregano.
In a pitcher, mix up the Bloody Mary mix, vodka if using, Montreal steak seasoning, Tabasco and Worcestershire and add it to the pot. Add the kidney and pinto beans, stir together well, cover and then reduce the heat to low. Simmer for one hour, stirring occasionally. Add more Bloody Mary mix or water if needed during simmering.
Garnish with optional shredded cheese, sour cream and green onions.