ACK! Halloween candy!
In college one of my girlfriends was housesitting so we rented the movie "Halloween" and sat in the dark watching it on Halloween night … in a strange house … in a strange neighborhood. Eeeeeeekkkkkkk! That was scary!
I learned my lesson about scary movies in dark houses. What scares me now is when I see them loading up the grocery store aisles with rows and rows of sugary treats this time of year.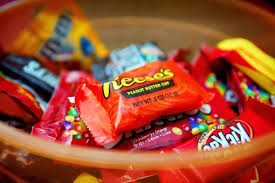 ACK! Halloween candy! (Cue "Psycho" music.)
It's not just the ubiquitous Halloween candy that fills me with dread; it's the whole downward spiral as our healthy living goals nosedive from October 1st until the end of the year. There are so many opportunities to lose our focus. So many temptations that lure us away from our best-laid plans.
It seems like just as the baseball season comes to an end, overindulgence becomes our national pastime between October and December.
We start with trick-or-treating, followed by Thanksgiving, office holiday parties, neighborhood cookie exchanges, Secret Santa gifts and then the Christmas / New Year's extravaganza caps it off.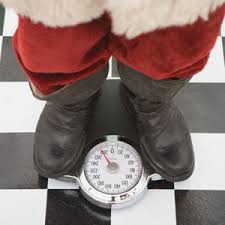 We know too well where all of that merry-making lands us come January.
But it's not the holidays per se that get us into trouble.
Those celebratory occasions are opportunities to overindulge, certainly. There are special treat foods and beverages everywhere and plenty of people around us partaking in them. Nobody bats an eye when we join in the party.
But they're not the reason we overindulge.
So why do we do it? We know it's bad for us. We know it's gonna set our weight loss goals back. We know it's gonna feel terrible to have lost ground and gained more weight.
Here's why I overindulged for years. Maybe some of these reasons ring true for you:
Unconsciously I was looking for an excuse and the holidays offered the perfect cover.
I was stressed out from trying to do too many things for too many people. Exit willpower, stage left.
I wanted to make the holidays nice for my family; I believed that if I baked cookies and holiday treats I was a "good mom."
I didn't know how to advocate for myself by saying "No, I'm not going to do that. It's not good for me."
Do you hear the self-doubt, fear and desperation in those examples? I do.
Instead of passively accepting holiday weight gain as unavoidable, let's try something different this year.
I suggest we:
Make mindful choices about what we eat and how we move.
Decide for ourselves if making unhealthy "treats" is really the best way to show our families that we love them.
Create proactive strategies for dealing with those inevitable healthy living challenges that will come up between now and December 31st.
Halloween will be here before we know it, with Thanksgiving and Christmas coming up quickly behind. There's no reason to fear the holidays as long as we're mindful of our choices and honest with ourselves about why we're making them.