100 days of planks!
Are you ready for 100 days of planks?!? Whooo hooo!! Me too!
Over the course of 100 days we'll work our way up from a 20 second plank to a 3:00 minute plank. Stay with the schedule (below) – even the rest days – because each one is important in reaching the overall goal.
Here's why we do planks:
Planks strengthen core, arms and shoulders
Planks improve muscle endurance
Planks enhance balance
Muscles used in planks: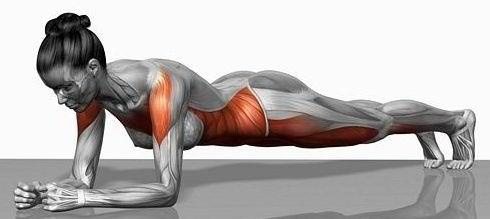 Proper plank form:
The basic plank starts in the standard pushup position – face down, hands shoulder-width apart directly below the shoulders, feet together with the weight supported on the toes. Arms should be straight, and the back should be flat; when the plank is performed correctly, the body should appear straight from the head to the heels. To modify, either drop the knees to the floor, or rest on your forearms rather than having arms straight. No matter which position you use, engage the abdominal muscles without allowing the chest or gluteus to sag.
100 days of planks schedule:
| | | | | | | | |
| --- | --- | --- | --- | --- | --- | --- | --- |
|   | Mon | Tues | Wed | Thurs | Fri | Sat | Sun |
| Week 1 | :20 | :20 | Rest | :30 | :30 | :30 | Rest |
| Week 2 | :45 | :45 | :45 | Rest | :50 | :50 | Rest |
| Week 3 | :60 | :60 | Rest | :60 | 1:10 | 1:10 | Rest |
| Week 4 | 1:10 | 1:20 | 1:20 | Rest | 1:20 | 1:25 | 1:25 |
| Week 5 | Rest | 1:25 | 1:30 | 1:30 | Rest | 1:30 | 1:35 |
| Week 6 | 1:35 | Rest | 1:35 | 1:40 | 1:40 | Rest | 1:40 |
| Week 7 | 1:45 | 1:45 | Rest | 1:45 | 1:50 | 1:50 | Rest |
| Week 8 | 1:50 | 1:55 | 1:55 | Rest | 1:55 | 2:00 | 2:00 |
| Week 9 | Rest | 2:00 | 2:05 | 2:05 | Rest | 2:05 | 2:10 |
| Week 10 | 2:10 | Rest | 2:10 | 2:15 | 2:15 | Rest | 2:15 |
| Week 11 | 2:20 | 2:20 | Rest | 2:20 | 2:25 | 2:25 | Rest |
| Week 12 | 2:25 | 2:30 | 2:30 | Rest | 2:30 | 2:35 | 2:35 |
| Week 13 | Rest | 2:35 | 2:40 | 2:40 | Rest | 2:40 | 2:45 |
| Week 14 | 2:45 | Rest | 2:45 | 2:50 | 2:50 | Rest | 2:50 |
| Week 15 | 2:55 | 3:00 | | | | | |